Trump Says Veterans Who Are 'Strong' Don't Get PTSD, But Others 'Can't Handle It' (UPDATED)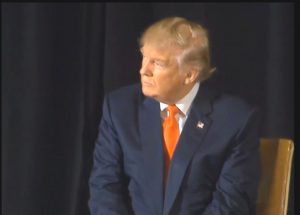 Donald Trump said that some veterans who return from war are "strong," but others "can't handle it" and grapple with PTSD, traumatic brain injuries, suicide ideation, and other mental health issues.
Trump made the comments at a Retired American Warriors PAC event Monday morning in Herndon, Virginia.
"When you talk about the mental health problems, when people come back from war and combat and they see things that maybe a lot of the folks in the room have seen many times over and you're strong and you can handle it, but a lot of people can't handle it," Trump said.
The event was moderated by Tony Perkins and retired Lt. Gen. Jerry Boykin, both of the Family Research Council, a conservative Christian advocacy organization.
UPDATE—2:00 p.m ET:
The Trump campaign issued the following statement attributed to retired Lt. General Michael Flynn:
"The media continues to operate as the propaganda arm of Hillary Clinton as they took Mr. Trump's words out of context in order to deceive voters and veterans—an appalling act that shows they are willing to go to any length to carry water for their candidate of choice. Mr. Trump was highlighting the challenges veterans face when returning home after serving their country. He has always respected the service and sacrifice of our military men and women—proposing reforms to Veteran Affairs to adequately address the various issues veterans face when they return home."
The question to which Trump was responding — and his complete answer — are transcribed here.
UPDATE—6:42 p.m. ET: 
The veteran who asked Trump the original question defended the candidate and said that the manner in which his response was covered by the media was "sickening."
VoteVets, an advocacy organization for veterans, released a statement Monday evening decrying Trump's remarks, saying they exposed him as a "completely toxic person."
"The fact is, dealing with the mental wounds from war has nothing to do about someone's strength," wrote Jon Soltz, an Iraq War veteran and Chairman of VoteVets.org.
Soltz's complete statement is as follows:
"These comments, as horrible as they are, are not shocking.  We're talking about a person, in Trump, who believes that POW's aren't real heroes, and that he's made sacrifices akin to Gold Star Families who lost their loved ones in war.  The constant disrespect Donald Trump shows towards our veterans and servicemembers is sickening, and completely and totally disqualifying.

Donald Trump is showing himself to be a completely toxic person, who only looks to pit groups of people against each other.  Comments like these go against even the most basic training people in the military receive, to deal with mental wellness issues.  These kinds of remarks only further stigmatize issues like post-traumatic stress, and discourage people from seeking the help they need.  It will only exacerbate the issue of veteran and military suicides.  Any commander would face serious consequences if he or she said this.   For a potential Commander in Chief to say it is unthinkable.

The fact is, dealing with the mental wounds from war has nothing to do about someone's strength.  You wouldn't say that someone can just deal with a traumatic brain injury without proper care, because he or she is 'strong enough,' or that an amputee doesn't need care because he or she is 'strong enough.'  And you certainly wouldn't say that someone who seeks care for those things is, in any way, weak.  If Donald Trump took even 3 seconds trying to understand and respect our veterans, he'd understand that."
—
If you or someone you know is considering suicide, call the Lifeline national organization for suicide prevention, 1-800-273-8255. The Veterans Crisis Line is available at the same number, by pressing "1."
—
Sam Reisman (@thericeman) is a staff editor at Mediaite.
Have a tip we should know? tips@mediaite.com