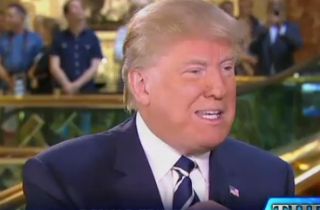 Donald Trump recently gave an interview to The Hill where he complained about how, despite bringing in crowd sizes to rival President Obama's from 2008, the Secret Service hasn't rushed to offer him protection.
"I want to put them on notice because they should have a liability," Trump said. "They're in no rush because I'm a Republican. They don't give a shit."
Obama and Hillary Clinton both had protective details assigned to them by May of 2007, when both were attracting high poll numbers and, in Clinton's case, due to her former First Lady status.
During the interview, Trump reportedly asked one of his security officers to describe his campaign's discussions with the Secret Service, and they conveyed it is currently unknown when he might receive government protection.
"Of course I don't think they'd want anything to happen. But I would think they should be very proactive and want protection for somebody like me that has 20,000 people at any time," Trump said. "You would think that they would want to be very proactive, but we have not heard from them."
CNN reported that a Department of Homeland Security spokeswoman said they never received an official protection request from the Trump campaign. DHS press secretary Marsha Catron gave a statement addressing the matter:
If a request is received, this authorization is determined by the Secretary of Homeland Security after consultation with a congressional advisory committee which includes the Speaker of the House, House Minority Leader, Senate Majority Leader, Senate Minority Leader, and one additional member selected by the aforementioned committee.
[Image via screengrab]
— —
>> Follow Ken Meyer (@KenMeyer91) on Twitter
Have a tip we should know? tips@mediaite.com