Trump Supporter Bashed On Twitter for Cleaning Graffiti Off His Hollywood Walk of Fame Star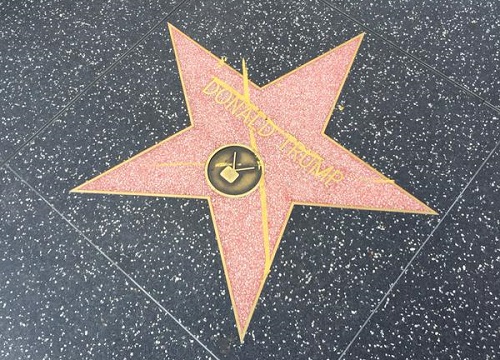 One of Donald Trump's supporters is getting a ton of heat on Twitter after she posted pictures of herself as she cleaned up the president's star on the Hollywood Walk of Fame.
Ever since Trump entered the 2016 race, his honorary star was repeatedly vandalized by those looking to protest his incendiary politics. At one point, the former reality showman's star had to be replaced after a man disguised himself as a construction worker and smashed it with a pickax and sledge hammer.
Makenna Greenwald arrived on Hollywood Boulevard several days ago, and she released these pictures from her time there:
Stopped to clean @realDonaldTrump Hollywood Star. Nothing but respect for MY President. #RaisedRight pic.twitter.com/jL4sqx4rlh

— Makenna (@makenna_mg) June 28, 2017
Pro-Trump figures retweeted Greenwald with clear approval of her showing respect for the president.
This is how Democrats are treating the girl who cleaned graffiti off Trump's Hollywood star. Appalling pic.twitter.com/ieEB9eyemD

— Jack Posobiec ?? (@JackPosobiec) June 30, 2017
Two Americas – which will you choose? pic.twitter.com/5UkmN15XOS

— Mike Cernovich (@Cernovich) July 1, 2017
Wow. Great American. @CNN @NBCNews @JoeNBC (who calls the @POTUS a schmuck, liar, goon etc.). Watch and learn what respect for the office is https://t.co/2m8aUVlBUd

— Sean Hannity (@seanhannity) July 1, 2017
Good job! What a respectful person!!

— BradmanTV® (@BradmanTV) June 29, 2017
Thank you Makenna! #MakeAmericaGreatAgain ?????? https://t.co/2JL6xTSI4C

— Eric Trump (@EricTrump) July 1, 2017
However, not all of the reactions were quite so positive:
Thank you for your kindness towards All Americans, even the stupid ones ??????

— Elaine Lancaster (@elainelancaster) July 1, 2017
— marissa w (@marissa_wiser) June 29, 2017
Sounds like you were raised alt Reich.

— ((Molly Jong-Fast)) (@MollyJongFast) June 30, 2017
Nice of you to stop by and pay tribute to those damn liberal Hollywood elite, ya know?

— Josh Sánchez (@jnsanchez) July 1, 2017
Hope that –someday — he will have respect for women! Fingers crossed.

— Robert Picardo (@RobertPicardo) June 30, 2017
Nah. pic.twitter.com/ZLbbjDzxRS

— Dave Weasel (@DaveWeasel) July 1, 2017
Cool, you cleaned off his star. Idc about that. What's annoying is the fact you had someone take pics of you doing it for twitter rts lmao.

— Connor (@ConnorAMiller) June 29, 2017
Lmao what a clown

— Derek Akunne (@Akunnematata) June 30, 2017
I grew up Christian. How does this president represent the teachings of Christ? Talks of 'grabbing pussy', mocks a disabled person, POW, etc

— Scott Stenholm (@ScottStenholm) June 30, 2017
[Image via Twitter]
— —
>> Follow Ken Meyer (@KenMeyer91) on Twitter
Have a tip we should know? tips@mediaite.com