Trump Supporter Rick Santorum Calls 'Shame' on Kasich and Bush for Ignoring GOP Pledge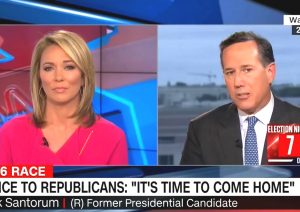 Trump supporter and two-time candidate for the Republican nomination Rick Santorum condemned Ohio Gov. John Kasich and former Florida Gov. Jeb Bush, among other Republicans, for their decision not to formally endorse Donald Trump.
"I want to say to John Kasich if you're watching: John, you signed a pledge," Santorum said on CNN Tuesday afternoon. "You signed a pledge saying that you would support the Republican nominee for president. You signed a pledge in order to get on the ballot in South Carolina. You promised that you would follow through with that. And you knew Donald Trump had a chance, because he was leading in the polls at the time, to be our nominee. And you signed it anyway."
Kasich announced on Monday that he had written in Sen. John McCain for president rather than support Trump. Bush has not endorsed Trump. Sen. Lindsey Graham, another defeated candidate for the GOP nomination, has repeatedly distanced himself from Trump.
"I know John Kasich is better than that. Jeb Bush, I would say the same thing to you. You signed a pledge," Santorum said. "I would say the same thing to other candidates who have not stepped forward and said I'm gonna support Donald Trump. Because you wouldn't have been on the ballot. You wouldn't have been able to run for president had you not signed that pledge."
Santorum appeared to be confusing the loyalty pledge that the RNC asked candidates to sign in Sept. 2015 with the Statement of Intention of Candidacy & Party Pledge (SICPP) form required by the South Carolina Election Commission. The RNC pledge included the provision that each candidate would "endorse the 2016 Republican presidential nominee regardless of who it is" and not mount an independent run (there was debate as to whether or not the pledge was legally binding). The South Carolina SICPP form included no such provision compelling the signer to endorse, only that they would not launch a write-in campaign to compete with the nominee.
Behind the scenes picture of my father signing the "pledge" — I am very proud of him! @RealDonaldTrump pic.twitter.com/VD6McLebvD

— Eric Trump (@EricTrump) September 3, 2015
"I'm gonna tell your kids and your grandkids that you signed a pledge, you gave your word, to be President of the United States — to run for President of the United States — and you backed away from it," Santorum concluded. "Shame on them!"
—
Sam Reisman (@thericeman) is a staff editor at Mediaite.
Have a tip we should know? tips@mediaite.com