Trump Supporters Rip John McCain's Funeral Service Over Trump Criticisms: 'PATHETIC'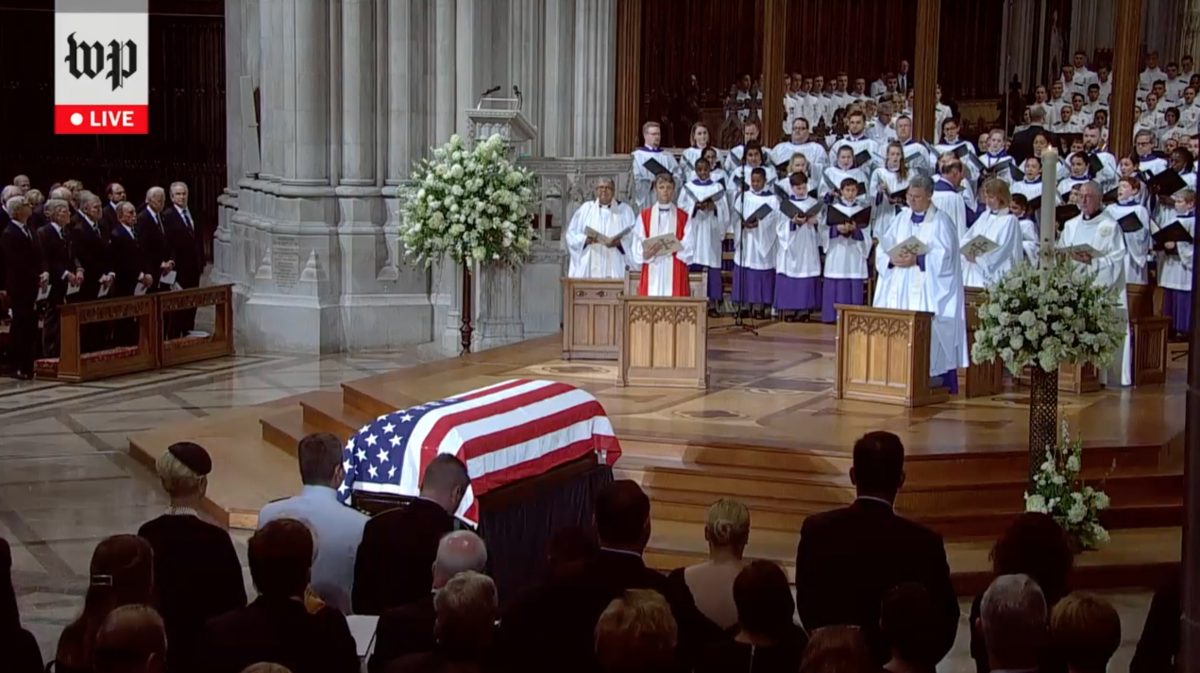 Sen. John McCain's memorial service featured moving tributes from former Presidents George W. Bush and Barack Obama, Henry Kissinger, Joe Lieberman, and perhaps most memorably, the Arizona senator's daughter Meghan McCain.
Though President Donald Trump wasn't invited to the memorial service, and his name was never mentioned, the eulogies served as a loud rebuke of his presidency and worldview.
"The America of John McCain has no need to be made great again because America was always great," Meghan McCain said in her powerful and tearful speech, drawing applause.
"So much of our politics can seem small and mean and petty," Obama said. "Trafficking in bombast and insult, phony controversies and manufactured outrage. It's a politics that pretends to be brave and tough, but is instead born of fear. John called on us to be bigger than that, to be better than that."
Bush said McCain "detested the abuse of power and could not abide bigots and swaggering despots."
The pointed rejection of Trumpism did not sit well with the president's supporters. While no one currently working for the White House thought it wise to bash a senator's funeral service and its grieving participants, many prominent Trump supporters unleashed.
Loudest perhaps was Sebastian Gorka, former deputy assistant to the president, who ripped the ceremony as "PATHETIC" and "utterly uncouth."
Love him or hate him, he's still their obsession. They can't do anything without talking about him. Must suck to be that deranged and pathetic. #MAGA

— Tomi Lahren (@TomiLahren) September 1, 2018
Partisan attacks at a funeral by folks bemoaning partisan attacks is quite the spectacle.

— Julie Kelly (@julie_kelly2) September 1, 2018
They have no self-awareness. NONE. https://t.co/Xitkt8DaA9

— Sebastian Gorka DrG (@SebGorka) September 1, 2018
Concur.

PATHETIC. https://t.co/76DS46KUfh

— Sebastian Gorka DrG (@SebGorka) September 1, 2018
No "may be" about it.

Utterly uncouth. https://t.co/uj8wTGsA78

— Sebastian Gorka DrG (@SebGorka) September 1, 2018
Sadly, @MeghanMcCain seemed to do exactly what she slammed Trump for doing. What should have been reflection and celebration of a patriot's life, has been turned into political theatrics and cheap shots. It's embarrassing, and really disappointing. https://t.co/xVK1PxOkVf

— Bernard B. Kerik (@BernardKerik) September 1, 2018
Fox News host Mark Levin ripped the media for amplifying the memorial and calling out Trump for golfing during the service:
Another day of attacking Trump via McCain weeklong memorial with media amplification. Terrible.

— Mark R. Levin (@marklevinshow) September 1, 2018
What kind of dumb media coverage is this?Trump wasn't invited to any of the McCain memorial events. And he's being dissed repeatedly. Is Trump supposed to sit in a corner at the White House all week? This is twisted. https://t.co/a3Krh8UuPF

— Mark R. Levin (@marklevinshow) September 1, 2018
So, another lecture at the memorial. This time from Joe Lieberman… it was mindless partisanship to vote to repeal Obamacare? https://t.co/98UQlOfc0r

— Mark R. Levin (@marklevinshow) September 1, 2018
It's too bad she can't participate in a funeral instead of lobbing political hand grenades.

— Ken Cuccinelli (@KenCuccinelli) September 1, 2018
This is why Trump run. https://t.co/CKkLfsR2u2

— Mike Cernovich ?? (@Cernovich) September 1, 2018
Leftist propaganda does not work on me—even when it comes in the form of a lavish funeral. #McCainMemorial

— Candace Owens (@RealCandaceO) September 1, 2018
McCain's problem with voters, one of the least popular Senators in recent polls, lost every Presidential run, was they thought the 'maverick' stuff was just an act. Watching a memorial filled with swamp creatures and petty political attacks, isn't helping fight that.

— MARK SIMONE (@MarkSimoneNY) September 1, 2018
Imma just gunna go ahead and use my own father's funeral to own the Trumptards.

The McCains are pure class. Not at all petty or small like that awful Donald Trump. https://t.co/euC6sN22Ms

— 'Sources Say' is Greek for 'Fake News' (@NolteNC) September 1, 2018
Class acts, those McCains…

Not bitter, petty, small, or prone to inappropriate grudge-holding like that awful Trump…

https://t.co/smb7BY7we7 via @BreitbartNews

— 'Sources Say' is Greek for 'Fake News' (@NolteNC) September 1, 2018
Dear Lord, what possible benefit to America would there be for politicians to troll Trump during a nationally televised funeral? ??

— Adam Baldwin (@AdamBaldwin) September 1, 2018
They are clearly trying to provoke Trump to get him to respond to someone at the funeral so they can creates a false narrative about him attacking the McCain memorial service

— Jack Posobiec ?? (@JackPosobiec) September 1, 2018
Have a tip we should know? tips@mediaite.com