WATCH: Obama, Bush, Meghan McCain Swipe at Trump During John McCain Funeral Service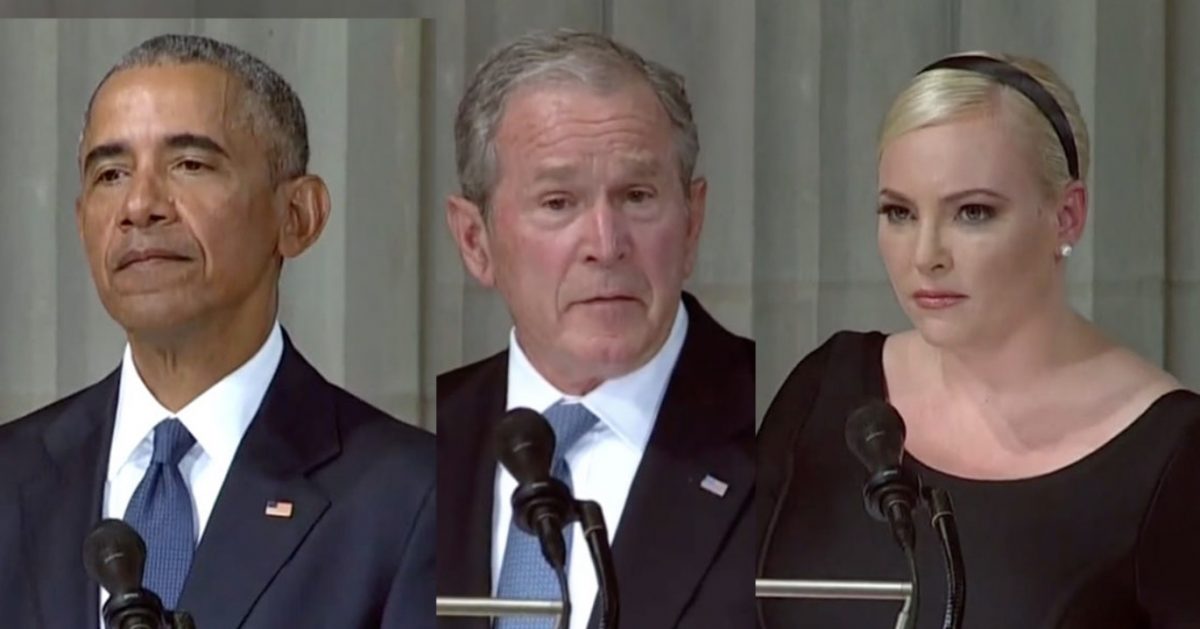 John McCain was eulogized by two former presidents, along with members of his family at a memorial service at Washington National Cathedral on Saturday.
The stirring tributes to the Arizona senator, who died last week at 81, balanced remembrances of his life and legacy as a statesman, father and husband. But they also included obvious swipes at current President Donald Trump — who was not invited to the memorial and instead spent the morning golfing and tweeting — and his worldview.
Meghan McCain was up first, and the senator's daughter delivered an emotional tribute to her father, that turned fiery as she took pointed shots at Trump, notably his campaign slogan.
"The America of John McCain is generous and welcoming and bold. She is resourceful and confident and secure. She meets her responsibilities. She speaks quietly because she's strong. America does not boast because she has no need to. The America of John McCain has no need to be made great again because America was always great." she said, to applause.
Her speech kicked off with a swipe as well: "We gather here to mourn the passing of American greatness, the real thing, not cheap rhetoric from men who will never come near the sacrifice he gave so willingly, nor the opportunistic appropriation of those who live lives of comfort and privilege while he suffered and served."
Former President Barack Obama's eulogy was equally stacked with shots at his successor.
"John understood that part of what makes our country great is that our membership is based not on our bloodline, not on what we look like," he said, "but on our adherence to a common creed that all of us are created equal, endowed by our Creator certain unalienable rights."
Obama said that McCain "understood that if we get in the habit of bending the truth to suit political expediency or party orthodoxy, our democracy will not work," and that he "championed a free and independent press that's vital to our democratic debate."
"So much of our politics can seem small and mean and petty. Trafficking in bombast and insult, phony controversies and manufactured outrage. It's a politics that pretends to be brave and tough, but is instead born of fear. John called on us to be bigger than that, to be better than that," Obama said. "Today is only one day in all the days that will ever be, but what will happen in all the other days will depend on what you do today. What better way to honor John McCain than follow his example."
Former President George W. Bush's swipes were more subtle, but hard to ignore.
Bush — who defeated McCain in the 2000 Republican presidential primary — said that the Arizona senator "detested the abuse of power and could not abide bigots and swaggering despots."
"He respected the dignity inherent in every life, a dignity that does not stop at borders and cannot be erased by dictators," Bush continued.
"John's voice will always come as a whisper over our shoulder: 'We're better than this, America is better than this'."
Watch above, via CNN.
[image via screengrab]
Have a tip we should know? tips@mediaite.com
Aidan McLaughlin - Editor in Chief