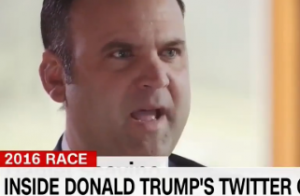 The Twitter account of one Mr.  Donald J. Trump has been getting the presidential candidate sneers and admiration since long before he became, well, the presidential candidate he is now. Since announcing his candidacy last June, he has tweeted numerous attacks on journalists like Megyn Kelly and shows like the View. He has retweeted a handful of white supremacists and one memorable dig at the looks of Heidi Cruz.
Naturally, his 7.8 million followers on the microblogging platform wonder what the process behind his tweets is. So many of the other candidates have curated, planned tweets and would never dream of deviating from the PR-approved norm, so his seemingly off-the-cuff online remarks are fascinating.
Senior adviser to the Trump campaign, Dan Scavino, directs Trump's social media and appeared on CNN today to shed some light on the mysteries of his boss' account.
He confirmed what Trump himself has said before about tweeting in the evenings, but gave viewers new information regarding what, exactly, his position as social media director is all about. As it turns out, he is just a fiercely loyal former employee of Trump's who started his career with the mogul as his golf caddy. His purpose there is to act as a sounding board and type out the tweets with Trump is busy.
He assured viewers that all of Trump's tweets are direct from the frontrunner himself. Whether you see that as a good or bad thing is up to you.
[image via screengrab]
Lindsey does her own social media, too! Here's her Twitter and Facebook.
Have a tip we should know? tips@mediaite.com