Trying To "Goose" Truthiness Rally, Colbert Fans Raise Record-Breaking Charity Numbers (UPDATE)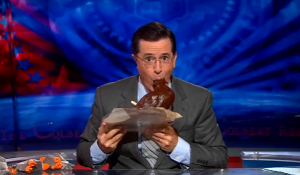 Last night on the Colbert Report, Stephen Colbert paid service to the fans eagerly clambering for a "Restoring Truthiness" rally. He showed off all of the stuffed geese they'd sent him following his request for "God Geese." He also pretended to eat one of the doves fans released outside his studio. He didn't, however, mention one other thing the fans have done: the fan-made Colbert Rally website has helped raise record-breaking charity dollars for the DonorsChoose.org charity.
From Time:
"Instead of simply using these sites to pester Colbert, fans decided to get some attention by doing some good. In only one day, the Restoring Truthiness movement has donated $100,000 and counting to educational charities through DonorsChoose.org, an organization of which Colbert is a board member. The money came so quickly that DonorsChoose.org's server broke, and Reddit users shattered Hillary Clinton's previous record of raising $29,945 for DonorsChoose."
If you're Colbert, that's got to make you feel pretty good. Not only do your fans really want to see you live, they also seem like pretty nice people to boot (of course, as Bernie Goldberg would point out, those fans are probably only giving to charity to feel good about themselves). This is definitely putting the ball in the Colbert Report's court (pronounced "coure") to come up with something good. However, given that Colbert and Jon Stewart have been playing this "coming announcement" game for more than a week now, chances are they have something pretty special in the works. They better, at least.
UPDATE: The Daily Beast has a rundown of the movement's charitable work and how it (like the Colbert Rally talk itself) began with a post on Reddit. They also received a quote from DonorsChoose:
"'We are absolutely amazed and blown away by the Reddit community's support of DonorsChoose.org in the last 24 hours,' said Katie Bisbee, senior vice president of marketing at DonorsChoose.org. 'Our entire staff is seriously filled with wonder—we are watching the tally climb every few minutes. The Reddit community is a force to be reckoned with! We are so grateful for the amazing impact they are having on classrooms across our country. And we know the teachers and students they are supporting are going to be so excited to start off the school year with brand new learning materials.'"
Check out the rest of the history as well as some quotes from some of the kindly Colbert fans here.
Have a tip we should know? tips@mediaite.com