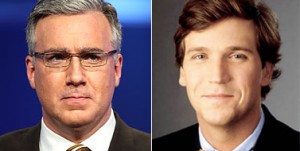 Over the summer, Tucker Carlson's Daily Caller purchased the URL KeithOlbermann.com and Carlson said he would personally use the email address Keith@KeithOlbermann.com. Today, news came out that The Daily News' Stu Bykofsky was tricked into thinking he was having an email fight with Keith Olbermann himself. The exchange was published on Phawker, where it began to pick up heat before quickly being shot down.
The emails contained quite a few choice quotes from "Keith" regarding his recent suspension and MSNBC President Phil Griffin. Here's a sampling from Phawker:
"Dear Stu,

Since you're obviously a moron, I won't waste your time or mine writing more emails you clearly can't understand. But I do want to correct one of the numerous errors of fact in your email: Phil Griffin did not suspend me. He doesn't have the power or frankly the courage to do so. Once I had been (very) temporarily relieved of my duties by NBC management, Phil got on the phone to some of your fellow idiot TV columnists and tried to claim credit.

As if.

I could have Phil Griffin fired tomorrow if I felt like it, trust me. And if he keeps yapping about me in public, I may. For the moment, however, keeping Phil around is like having a drunk chimp in the office — more amusing than threatening.

Feel free to correct the record in your 'column.'

KO"
While the emails were briefly picked up by a couple outlets, most sources guessed the prank. Eventually, Olbermann himself was forced to comment on it.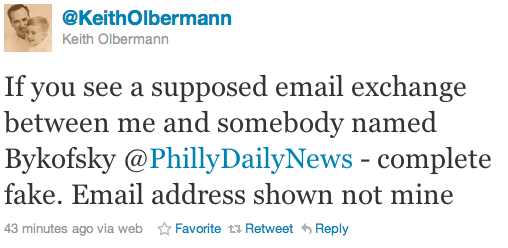 Phawker shouldn't feel too bad though. In the end, they definitely have something on their site worth reading. Sure, it's not exclusive proof of a divisive personality combusting, but it's still a hilarious impression.
Have a tip we should know? tips@mediaite.com