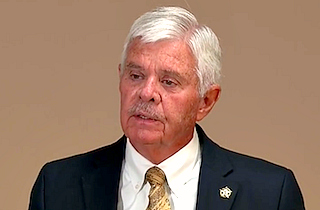 The Tulsa County Sheriff whose volunteer deputy shot and killed an unarmed black man in April will resign following his indictment at the hands of a grand jury on charges of misconduct.
According to The New York Times, Sheriff Stanley Glanz, who initially sided with volunteer deputy Robert Bates and his family following the incident, was charged with two misdemeanors stemming from evidence that he'd given the reserve officer special treatment. The grand jury therefore concluded that he should be removed from office.
Glanz and Bates were friends, and according to the evidence amasses following the death of Eric Harris, the 73-year-old had helped with the sheriff's re-election campaign in return for his volunteer position.
Following the indictment's public announcement on Wednesday, Glanz's lawyer, Scott Wood told the press that the sheriff was going to resign. Glanz himself was not present at the hearing, but Wood read out a statement in his absence.
"I know that my decisions have caused some to criticize me both publicly and privately," read the statement. "As sheriff, I take responsibility for all decisions made by me or in my name, but I assure you they were all made in good faith."
Glanz was charged with refusal to perform an official duty and false financial claims. The latter had less to do with the case regarding Harris' death at the hands of Bates, who accidentally drew his gun instead of his taser during the incident. The former, however, concerns the sheriff's initial refusal to release Bates' department records, which were reportedly falsified.
[h/t The New York Times]
[Image via screengrab]
— —
>> Follow Andrew Husband (@AndrewHusband) on Twitter
Have a tip we should know? tips@mediaite.com