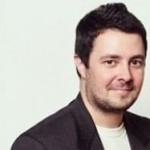 There is a corner of the internet where actors, comedians, musicians, artists, writers, bloggers, directors, people from all walks of life are creating over 2 million posts per day, and are often meeting each other in person in over 50 different places around the world, from New York to London to Berlin to Tokyo. The place is Tumblr and it is quickly becoming the third member of the holy trinity of social media, along with Twitter and Facebook. Today, the New York Times' makes it official with this headline: "Facebook and Twitter's New Rival."*
It's not exactly new – you don't get to 6.6 million users overnight. In fact, Tumblr's been around since November 2007, when founder David Karp launched it at the ripe old age of 19 with the help of lead developer Marco Arment. Karp was waiting for traditional blog companies, like Blogger or WordPress, to come up with a platform for 'tumblelogging' (short-form posting), more akin to text messaging than a longer-form blog posting (like, say, this). Karp got tired of waiting, and decided to go ahead and start it himself.
Here's the gist of Tumblr: a dead-simple way to get out your ideas or inspirations, what you're doing, what you like or hate, whatever snip of culture or sub-culture is engaging you at the moment, across any form of media – photo, text, quip, video, audio clip, chat transcript. The sum total contributes to a unique online identity through sharing what you gather on the web with  your followers, usually with your own two cents (even if it's as simple as "LOL").
There are two very important elements of Tumblr, the ability to "follow" other users and to "reblog" their posts. When you "follow" another tumblr, all of their posts show up in your dashboard, which is where you can post new content, read content created by people you follow, and see the reactions of other users to that content, theirs or yours.You can reblog the posts you like and add your commentary to the post. And it should be noted: Before there was retweeting on Twitter, there was reblogging on Tumblr.
Tumblr's growth has been incredible. Last month, it broke Technorati's top 50 sites on the Internet. (That's the whole internet.) It's not just that they have 6.6 million users, it's that those users are highly engaged. (A year ago, in preparation for another piece about Tumblr, Karp told me that the average Tumblr post had five interactions – likes, reblogs, answers – as compared to  an average 1.5 comments on the average WordPress post.) In March, the company clocked their posts at about 2 million per day.
All this to say: Of course the MSM will want to get on Tumblr! It's a no-brainer, and we'll see it happen just as we saw the eventual stampede of conventional news outlets to get in on Facebook and Twitter. Everyone needs every edge they can get nowadays – why wouldn't you take advantage of an additional content stream?
They will – eventually. Meanwhile, the smart ones are doing it first. The NYT's Jenna Wortham cites the now-famous example of Newsweek's Mark Coatney, who used the Newsweek Tumblr to engage a whole new audience with the magazine's content (and, it should be noted, a savvy and influential audience too, including many web writers and editors who  scour Tumblr just like Twitter for content to aggregate). Wortham cites a few of the new blue-chip entries to the form – the New Yorker, The Atlantic, Rolling Stone, NPR, HuffPo and the NYT itself; others include the Today Show, which adopted the Newsweek/Coatney model of having a Tumblr-savvy editor run the show (staffer Rina Raphael, who has been on Tumblr herself for well over a year). And — disclosure alert — online sports-blog network behemoth SBNation tapped me, a longtime Tumblr user, for the same reason (so please come visit us at SBNation.tumblr.com!).
(I should note that online sites have been on Tumblr for a while now – Black Book, Gawker, Guest of a Guest and Mediaite have all been on Tumblr for months, albeit which much less fanfare. So, incidentally, has the White House, in this official tumblr for Inauguration.)
Will Tumblr become the new Twitter? (Both seem to be taking their time to monetize, but that's another story.) There's no question that a Tumblr takes more work to keep up – it is essentially a blog, after all, and however short-form it may be it still takes more work than 140 characters – but there's also no question that the payoff for smart content companies is there, in new audiences, user engagement and creative possibility. Is this the tipping point? I guess we'll see.
— With Rachel Sklar. NB: Rachel Sklar is an advisor to SBNation, and directed the company to Anthony de Rosa for its Tumblr.  De Rosa has been frequent contributor to Mediaite since its launch last summer.
*It seems that the NYT has changed the headline. Screenshot of the original here.
Have a tip we should know? tips@mediaite.com