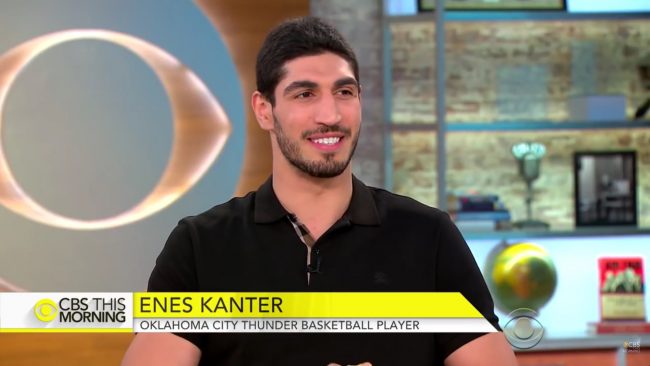 The government of Turkey is seeking the arrest of Oklahoma City Thunder center Enes Kanter for his supposed involvement in a "terror group."
Agence France-Presse (AFP) detailed the legal action against Kanter in a Friday report. A judge in Istanbul signed the warrant on Friday after a "prosecutor opened an investigation into Kanter's alleged 'membership of an armed terrorist organisation.'"
AFP noted that the professional basketball player "previously backed Muslim cleric Fethullah Gulen in Twitter postings after an attempted putsch last July aimed at ousting President Recep Tayyip Erdogan."
On May 20, Kanter posted a video to Twitter that revealed he had been detained in Romania after the Turkish government revoked his passport.
I'm being held at Romanian airport by Police!! pic.twitter.com/uYZMBqKx54

— Enes Kanter (@Enes_Kanter) May 20, 2017
The NBA star was ultimately allowed to return to the United States, and doubled-down on his criticism of Erdogan by likening him to one of the most notorious mass murderers of the 20th century.
NBA star Enes Kanter calls Turkey's Erdoğan "the Hitler of our century": "I hope the world's going to do something." https://t.co/Y5u07KDMUI pic.twitter.com/Z2I2FVf59u

— ABC News (@ABC) May 22, 2017
Later in their write-up, AFP pointed out Kanter's defiant reply on Twitter to the arrest warrant. He wrote in Turkish, "You cannot catch me. Hahaha. Don't waste your energy. I am already going to come to (Turkey) to spit on all of your ugly, hate-filled faces."
Yakalayamazsıııın!!!
Hahaha ??
Boşuna yorulmayın.
Hepinizin o çirkin, nefret dolu suratlarınıza tükürmeye zaten kendim geleceğim. pic.twitter.com/hw0LUp4MNo

— Enes Kanter (@Enes_Kanter) May 26, 2017
[image via screengrab]
Have a tip we should know? tips@mediaite.com