Step aside Daily Currant, fake news posts are now a global industry.
The story that North Korean President Kim Jong-un had his uncle Jang Song Thaek executed by throwing him to a pack of rabid dogs was already drawing skepticism when it went viral a few days ago.
It appears now the story was likely satire. On Monday, Reuters cited a blog post by software engineer Trevor Powell, which noted that the story originated from a post on the satirical Chinese site Tencent Weibo claiming that Jang had been thrown to "120 dogs."
As you can tell from Tencent Weibo's background of Jong-Un giving everybody the finger, the site is probably not the most dispassionate source for North Korean events: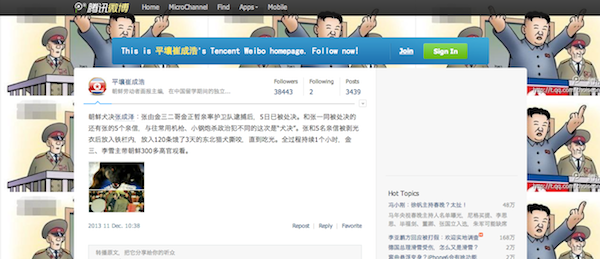 The story gained an aura of legitimacy when it was republished by Hong Kong newspaper Wen Wei Po, where it was viewed almost 300,000 times, and from which it was picked up by major Western media outlets.
Thanks to North Korea's isolation, accurate reports of the government's activities are difficult to come by, and thanks to its reputation for brutality outsized tales of such behavior are readily believed. (For instance, before the dogs story, rumors had already been swirling that the Jong-un had ordered this and several other executions while severely intoxicated.)
For now, however, the original and most plausible story—that Jong-un had his uncle killed by a firing squad—will have to be brutal enough.
NB: As far as we know, the ski lift photo is still real.
[h/t Reuters]
[Image via screengrab]
——
>> Follow Evan McMurry (@evanmcmurry) on Twitter
Have a tip we should know? tips@mediaite.com