Twitter Absolutely Blows Up Over Huge James Comey News Regarding Clinton Emails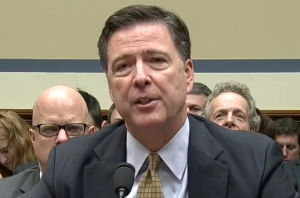 Immediately after breaking news hit that FBI director James Comey wasn't changing any conclusions when it came to Hillary Clinton's use of a private email server, essentially stating that nothing will come from the previous letter he sent last month, Twitter went absolutely berserk.
Considering the partisan nature of the story, and it coming just two days before the presidential election, it all depended on who was sending the tweet on what kind of reaction you'd see.
We had the acknowledgement of how Democrats and Republican would immediately shift allegiances and their views of Comey.
Now Ds who were savaging Comey a few days ago will praise him & GOPers who were behind him will turn on him again. https://t.co/WGsT8fp1rf

— David Axelrod (@davidaxelrod) November 6, 2016
*the sound of everyone switching sides on comey again*

— Gideon Resnick (@GideonResnick) November 6, 2016
The anticipation of how Donald Trump and his campaign would react.
Rudy Giuliani probably just threw his glass of Metamucil against a wall

— john r stanton (@dcbigjohn) November 6, 2016
CNN's Jim Acosta reminded us all how much Trump praised Comey after the first letter.
Trump last Monday: "It took guts for Director Comey to make the move he made… What he did, he brought back his reputation."

— Jim Acosta (@Acosta) November 6, 2016
And there was a little humor regarding last night's Reno rally.
James Comey saw a sign and yelled "Gun!"

— Matt Browner Hamlin (@mattkbh) November 6, 2016
Then we got journalists weighing in.
Ive said, given chaos Comey created, he better be able to indict Clinton. Now he says "never mind." I dont curse on this feed, but fuck 'im.

— Kurt Eichenwald (@kurteichenwald) November 6, 2016
BREAKING: "What an ass!!!!"

-my father, on Comey's 2nd letter

— Julia Ioffe (@juliaioffe) November 6, 2016
Hey, guys! Remember these things called "weekends"? #MakeTheNewsSlowAgain

— Julia Ioffe (@juliaioffe) November 6, 2016
Kellyanne Conway's positronic motherboard scrambling to compile spin for Trump's "worse than Watergate" blurtings about Comey/emails.

— Bob Cesca (@bobcesca_go) November 6, 2016
FBI really handled this one well

— Sam Stein (@samsteinhp) November 6, 2016
Okay Trump and Clinton, back to your default positions on Comey…

— Glenn Thrush (@GlennThrush) November 6, 2016
Thought neighbor stole my wrench. So I wrote a letter to all the neighbors letting them know i was investigating.

But nm, he totes didn't.

— Ben Howe (@BenHowe) November 6, 2016
— Olivia Nuzzi (@Olivianuzzi) November 6, 2016
And just in case you wanted to know how Trump surrogate Newt Gingrich felt.
Comey must be under enormous political pressure to cave like this and announce something he cant possibly know.

— Newt Gingrich (@newtgingrich) November 6, 2016
UPDATE – 4:24 p.m. ET: NBC's Alex Seitz-Wald noted Trump campaign manager Kellyanne Conway's first televised reaction to the news:
.@KellyannePolls on MSNBC on Comey: "He's mishandled this investigation from the very beginning."

— Alex Seitz-Wald (@aseitzwald) November 6, 2016
She previously gave her thoughts on the development with this tweet:
Then why did you, your colleagues, and your candidate attack Comey and his credibility? https://t.co/GjPeV8pWsr

— Kellyanne Conway (@KellyannePolls) November 6, 2016
UPDATE – 4:36 p.m. ET: House Speaker Paul Ryan and the Republican National Committee have also responded to the news:
NEW: @SpeakerRyan issues statement in response to FBI letter on Clinton email review: https://t.co/cVXPro91CB pic.twitter.com/xAA1g0aGDl

— ABC News Politics (@ABCPolitics) November 6, 2016
RNC reaction to news FBI is not changing its conclusions after reviewing newly-discovered Clinton emails: pic.twitter.com/W2OjssAPkg

— Jeremy Diamond (@JDiamond1) November 6, 2016
UPDATE – 4:46 p.m. ET: Former congressman and current Trump advocate Joe Walsh had this to say:
Comey never should've opened his mouth in July. He never should've opened his mouth Oct 28th.

Now 2 days b4 Election Day he cleans it up.

— Joe Walsh (@WalshFreedom) November 6, 2016
UPDATE – 4:46 p.m. ET: Wayne Allyn Root, who spoke at one of Trump's recent rallies, offered some thoughts:
Crooked Hillary, what did you offer to Crooked Comey? American public no longer trusts FBI. What a legacy for Crooked Comey.

— Wayne Allyn Root (@WayneRoot) November 6, 2016
Fox News host and frequent Trump booster Sean Hannity also got in on this:
If law enforcement or congress ever ask for e mails regarding an investigation, the FBI now says it's OK to delete them with "Bleach Bit"

— Sean Hannity (@seanhannity) November 6, 2016
As for #NeverTrumper Bill Kristol:
Am I the only person in America (or at least on Twitter) who thinks each of Comey's three decisions (or announcements) is defensible?

— Bill Kristol (@BillKristol) November 6, 2016
UPDATE – 5:20 p.m. ET: Drudge Report creator Matt Drudge made a rare Twitter appearance to give his personal take:
Comey's head-fake fake just made the hornets nest even crazier! 48 hours of madness upcoming!!

— MATT DRUDGE (@DRUDGE) November 6, 2016
UPDATE – 6:40 p.m. ET: CNN's Chris Cuomo also weighed in:
Kind of just as big a surprise as last arguably inappropriate disclosure https://t.co/XxZAGWjVxX

— Christopher C. Cuomo (@ChrisCuomo) November 6, 2016
[image via screengrab]
–
Follow Justin Baragona on Twitter: @justinbaragona
Have a tip we should know? tips@mediaite.com