After Review of New Emails Comey Informs Congress That FBI Has 'Not Changed' Conclusions On Clinton Emails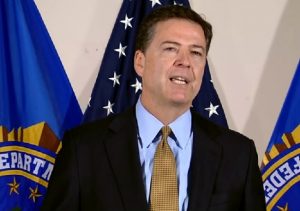 Rep. Jason Chaffetz (R-UT) sent out a tweet today explaining that FBI director James Comey informed him that there had been no change in the conclusions the FBI had in the investigation into Hillary Clinton's emails.
FBI Dir just informed us "Based on our review, we have not changed our conclusions that we expressed in July with respect to Sec Clinton"

— Jason Chaffetz (@jasoninthehouse) November 6, 2016
Below is the letter that was sent to Congress.
New Comey letter: FBI has not changed its conclusion regarding Clinton use of personal email server pic.twitter.com/IdKT1gweMf

— Jim Acosta (@Acosta) November 6, 2016
Immediately after the news hit, Clinton press secretary Brian Fallon sent the following tweet.
We were always confident nothing would cause the July decision to be revisited. Now Director Comey has confirmed ithttps://t.co/BMQQx9eRzw

— Brian Fallon (@brianefallon) November 6, 2016
Meanwhile, Trump campaign manager Kellyanne Conway responded to Fallon on Twitter.
Then why did you, your colleagues, and your candidate attack Comey and his credibility? https://t.co/GjPeV8pWsr

— Kellyanne Conway (@KellyannePolls) November 6, 2016
It was reported after Comey sent the initial letter saying new information had come out that it was related to Anthony Weiner and the investigation into his sexting. Weiner shared a laptop with his estranged wife Huma Abedin and it was stated that a number of emails related to Clinton were on the laptop.
After the news hit, CNN immediately offered reaction to the breaking story.
At this point, it appears that there was nothing of note in the emails, at least per Comey's letter today to Congress. NBC News' Pete Williams reported that nearly every email found on the laptop was a duplicate.
NBC's Pete Williams reports that nearly all of the e-mails found on the Weiner laptop were duplicates of e-mails FBI already reviewed.

— Tom Winter (@Tom_Winter) November 6, 2016
Here's reaction from Jennifer Palmieri, Clinton's director of communications.
Following the news late last month regarding the further investigation into the emails, the presidential race became tighter, as polls shifted towards Donald Trump. Currently, Real Clear Politics has Clinton up by an average of 1.8 points in the national head-to-head polls.
UPDATE – 4:37 p.m. ET: House Speaker Paul Ryan and the Republican National Committee have also responded to the news:
NEW: @SpeakerRyan issues statement in response to FBI letter on Clinton email review: https://t.co/cVXPro91CB pic.twitter.com/xAA1g0aGDl

— ABC News Politics (@ABCPolitics) November 6, 2016
RNC reaction to news FBI is not changing its conclusions after reviewing newly-discovered Clinton emails: pic.twitter.com/W2OjssAPkg

— Jeremy Diamond (@JDiamond1) November 6, 2016
[image via screengrab]
–
Follow Justin Baragona on Twitter: @justinbaragona
Have a tip we should know? tips@mediaite.com