Twitter Blasts Mogul Who Says Millennials Can't Afford Houses Because They're Buying Avocado Toast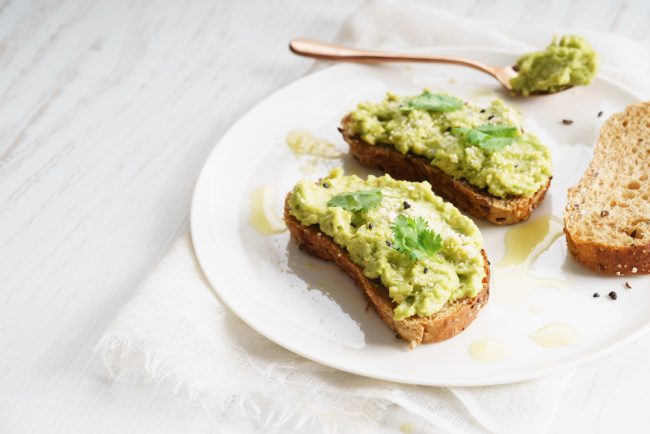 Posted above is a stock photo of several pieces of avocado toast. And it — according to one Australian real estate mogul — is responsible for the housing crisis among millennials.
Yes, avocado toast is apparently the reason millennials don't buy houses these days. So says Australian real estate magnate Tim Gurner, according to 60 Minutes Australia.
"When I was trying to buy my first home, I wasn't buying smashed avocado for $19 and four coffees at $4 each," Gurner said.
Naturally, millennials and others took issue with the idea that avocado toast is the very thing that's standing between them and their home owning dreams.
Alright, I did the math. If I stopped eating avocado toast every day, I would be able to afford a bad house in Los Angeles in 642 years. pic.twitter.com/nqhiqnQ07E

— Kaleb Horton (@kalebhorton) May 15, 2017
@TIME I made my fortune flipping avocado toast. I buy rundown avocado toast or avocado toast seized for back taxes and then fix it up.

— Ian Fortey (@IanFortey) May 15, 2017
Avocado toast >>> Wage distribution >>> Zoning laws that render property prohibitively expensive

— Kavitha A. Davidson (@kavithadavidson) May 15, 2017
Monthly expenses
Transportation: $120
Food: $500
Clothing $200
Avocado toast: $35,000
Someone good at the economy please help me budget this

— Murtaza Hussain (@MazMHussain) May 15, 2017
*two weeks after millennials stop eating avocado toast*

"Millennials Are Killing The Avocado Industy" – all boomer piece of shit columnists

— Waste Fellow (@WifeEmailer) May 15, 2017
As someone who spends $2000 a month on avocado toast, this article hit home https://t.co/FyQKWIbU9Y

— Nate Scott (@aNateScott) May 15, 2017
@M6000W "oh wise money man, what is your secret to success?"
"avocado toast. no more of it. just trust me on this one"

— Weinerless Steve (@weinerless) May 15, 2017
No bubble here, just everyone in my Twitter feed yapping about avocado toast.

— Jon Favreau (@jonfavs) May 15, 2017
if millennials stopped eating avocado toast and started collecting all the uneaten toast, they cld use the toast as material to build homes

— Mira Gonzalez (@miragonz) May 15, 2017
Imagine the outrage if this clown said "Stop buying craft beer if you want to buy a home." #beer Twitter > #avocadotoast Twitter. https://t.co/z98FUxZlC8

— Peter Frost (@peterfrost) May 15, 2017
Joke's on you fuckers. I built my house out of avocado toast.

— Zach Schonfeld (@zzzzaaaacccchhh) May 15, 2017
Recs for other cholesterol-lowering food that pair nicely w/ unstable job market, unattainable housing & never-ending student loan debt? https://t.co/uvD3MFk7rQ

— Elizabeth Hernandez (@ehernandez) May 15, 2017
Twitter let Gurner have it even more after discovering that he got his start in real estate speculation with a $34,000 loan from his grandfather.
Millennials who want to be homeowners should STOP buying avocados and START receiving $34,000 from their grandfather to start their careers pic.twitter.com/q2KXNhE9T1

— Max Tani (@maxwelltani) May 15, 2017
Did you guess "a wealthy relative gave him $34,000"?

DING DING DING

That's a lot of avocados! pic.twitter.com/bDryeyCBvR

— Nate (@NathanOfOz) May 15, 2017
Yeah people, stop eating avocado and get $34,000 from your grandpa instead ? pic.twitter.com/LeDtBTzNqY

— Jay Plays ? (@heythisJay) May 15, 2017
[image via ShutterStock]
——
Follow Joe DePaolo (@joe_depaolo) on Twitter
Have a tip we should know? tips@mediaite.com
Joe DePaolo - Senior Editor