Twitter Blasts Sean Hannity and Jeanine Pirro Stumping for Trump: 'An In-Kind Contribution?'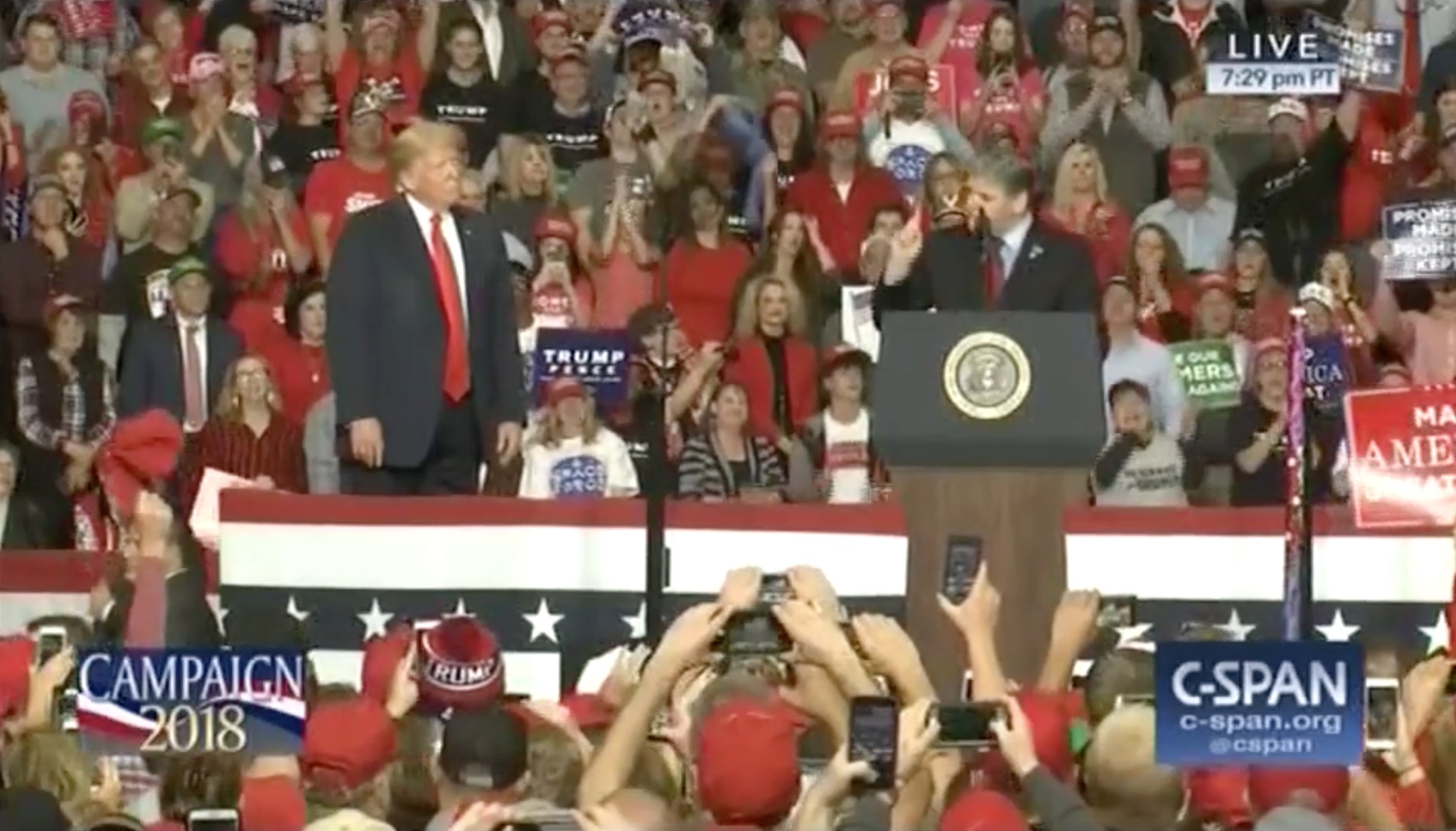 Political observers and various media figures are not impressed with how Sean Hannity and Jeanine Pirro blatantly stumped for Donald Trump ahead of the midterm elections.
The two Fox hosts held a show at the president's final event to rally the GOP on Monday night, and they both ended up going on stage to deliver gushing support for Trump as they urged people to go out and vote. This came after Hannity insisted that he would interview the president back stage and hold a live show from the venue, but wouldn't actually get on stage to campaign on the president's behalf.
In spite of reports, I will be doing a live show from Cape Girardeau and interviewing President Trump before the rally. To be clear, I will not be on stage campaigning with the President. I am covering final rally for my show. Something I have done in every election in the past.

— Sean Hannity (@seanhannity) November 5, 2018
People took notice of the fact that Trump had two major cable news figures singing his praises, and not all of them were particularly happy about it. As you can see, many reactors felt that Hannity and Pirro pretty much solidified the White House-Fox News connection, and otherwise, they found it ironic that Hannity attacked the "fake news" on stage after putting out fake news of his own.
And at 9:30 p.m. here in Cape Girardeau, President Trump calls Hannity on stage. The first words out of his mouth are "fake news" – as he points to the press in the back of the arena. If anything is fake, it would be this tweet Sean sent out earlier today. Fake tweet? https://t.co/hZYcPCwDtI

— Jeff Zeleny (@jeffzeleny) November 6, 2018
Still can't get over Hannity denying he would be on stage the whole day, getting brought up by Trump, and then pointing to actual news reporters and calling them fake. https://t.co/DZTVw0FWqY

— Maggie Haberman (@maggieNYT) November 6, 2018
The White House-Fox News nexus has rarely been as evident as tonight in Cape Girardeau:
-Hannity pre-game interview
-Trump praises Ingraham in interview
-Shine high-fives Hannity
-Trump calls Hannity on stage
-Trump calls Judge Jeanine on stage
-Trump praises McDaniel's Fox hits

— Philip Rucker (@PhilipRucker) November 6, 2018
Trying to imagine Hannity's month-long meltdown if Obama ever invited Don Lemon on stage to have him insult other networks pic.twitter.com/dJy4hr2N9j

— jordan (@JordanUhl) November 6, 2018
Has Hannity ever done anything "as a journalist?" https://t.co/jkkawuJESX

— Eugene Scott (@Eugene_Scott) November 6, 2018
In 2010, Fox News basically punished Hannity for planning to appear at a political rally. How they respond to his antics tonight will prove whether he owns them now. pic.twitter.com/XvVLSO5C3f

— Andrew Kirell (@AndrewKirell) November 6, 2018
state media https://t.co/PLw8w3AJnx

— Matt Pearce ? (@mattdpearce) November 6, 2018
So if you campaign with Trump – like Hannity did tonight – and then have Trump on your show, is that an in-kind contribution?

— John Bresnahan (@BresPolitico) November 6, 2018
Our very normal, Fair and Balanced news broadcasters. https://t.co/8jUPqX0RPM

— Matt Fuller (@MEPFuller) November 6, 2018
Sean Hannity claims that others are "fake news." pic.twitter.com/0JekHaDzz4

— Matt Viser (@mviser) November 6, 2018
At least three of the people Hannity just called out also work at Fox News. https://t.co/g88iMyMK0l

— Dan Merica (@merica) November 6, 2018
Any talk about trump's enduring popularity with a good chunk of the American public really needs to begin with the fact that the largest cable news apparatus in the country is quite literally a campaign arm for him.

— Sam Stein (@samstein) November 6, 2018
CNN knocking Hannity for doing his show from AND going up to the podium at Trump's rally last night. They're right. Pretty unseemly to see a whole news program (even if it's opinion) airing at a rally, which the host openly supports.

— Eddie Scarry (@eScarry) November 6, 2018
[Image via screengrab]
— —
>> Follow Ken Meyer (@KenMeyer91) on Twitter
Have a tip we should know? tips@mediaite.com