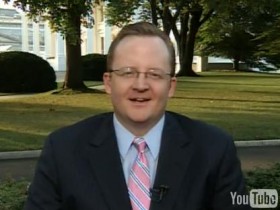 "For some reason," said White House Press Secretary Robert Gibbs, "Twitter is blocked on White House computers."
Gibbs made the admission on C-SPAN on Friday morning, saying that he does not personally tweet, either: "I have to say, I'm on camera enough that I think people have a decent sense of what I'm doing minus Twittering."
Gibbs has learned his art well; obviously he does far more than just appear publicly at the briefing (though that is usually Twittered wildly); surely the White House has learned a thing or two about the blurty, awkward nature of Twitter from a few of its Republican counterparts (see: Newt Gingrich calling Sonia Sotomayor a racist; retweets of same; Mark Shurtleff accidentally tweeting his unannounced plans for a Senate bid; Chuck Grassley: "I'm no NAIL").
This little item has created a mini–flurry in the blogosphere (they love their Twitter!), with The Hill wondering: If Twitter is blocked on White House computers, then who is updating the Official White House Twitter feed? A quick look at the feed shows that it's the real deal: Updated frequently, by an actual person or persons, with actual personality ("For the wonky: Peter Orszag's blog post on the latest CBO health care news http://bit.ly/elUQz" "For the not-so-wonky: new Flickr gallery from the First Family's trip to Russia, Italy and Ghana http://bit.ly/4Gh7t0").
The plot thickens – a look at the timestamps on various tweets show business-hours updates: 10:28 a.m., 8:29 a.m., 5:38 p.m., 12:02 p.m., 3:13 p.m., 11:34 a.m. Furthermore, according to the Twitter feed they are, for the most part, posted "from web" – i.e. during business hours accessed from a computer – or "from HootSuite" – a web-based Twitter app that allows you to manage multiple twitter accounts and allow for multiple editors…from a computer. There are a few entries "from Tweetie" – which is from Mac/iPhone; as for the less-active but still-current Twitter account for @Barack Obama, those seem to come in mostly from web and TwitterBerry, a Twitter app for the favored White House gadget, the Blackberry.
So: What does this mean? (a) Whoever is tweeting for the White House is not actually in the White House; (b) Twitter in its classic form is blocked but not Hootsuite; (c) Gibbs is confused. Is this a big, earth-shattering deal? No! Does the blogosphere demand an answer? Yes! So we've sent a query to the appropriate parties in D.C. and await the response. One way or another, the mystery will be solved. Until then, please enjoy the 22-second clip that started it all. Thanks, C-SPAN!
[UPDATE: Bill Burton answered our questions – Twitter isn't blocked – at least not officially. Details here.]
NB: It's interesting the conclusions people draw from these mini-news items. In my review of the pickup of the Gibbs quote, I found little new information or additional reporting – which is why this headline from UPI raised my eyebrows: "White House bans staffers from Twitter." Huh? A quick look at the item revealed no more information than the throwaway Gibbs quote, from which UPI apparently divined that entirely unsubstantiated claim. What would Walter Cronkite think?
Have a tip we should know? tips@mediaite.com