Twitter Honors Kayleigh McEnany's New RNC Job by Resurrecting Her Classic Tweets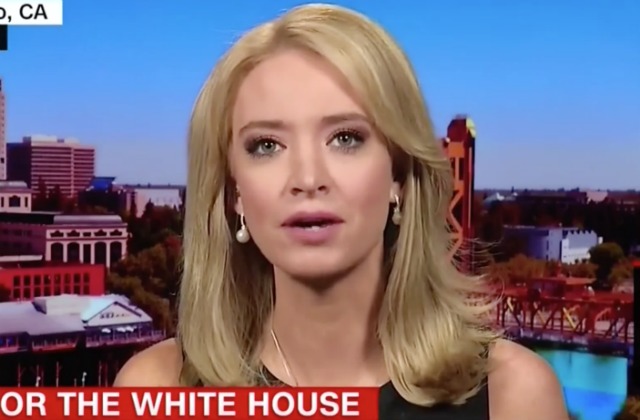 The Twitterverse is not letting Kayleigh McEnany forget about some of her objectionable statements from the years before she rose to prominence in the political media.
The pro-Trump commentator left CNN last week, though she quickly reappeared on the president's Facebook page in order to deliver a "real news" PSA about the White House's accomplishments. The latest news is that McEnany will join the Republican National Committee as their new national spokeswoman.
In recognition of her new position, Twitter users dug through McEnany's archives, and they revived this tweet about former president Barack Obama:
How I Met Your Brother — Never mind, forgot he's still in that hut in Kenya. #ObamaTVShows

— Kayleigh McEnany (@kayleighmcenany) August 30, 2012
People took notice, and they weren't happy about the birtherism:
Hello @JeffFlake? Here's your chance to stand up to your party and tell them to reject this racist as the @GOP spokesperson. https://t.co/SlhF6dtc7g

— Jennifer Hayden (@Scout_Finch) August 7, 2017
Looks like we may need a Scaramucci-esque purging of past tweets.

Also, this … is completely unfunny? https://t.co/pc7nUIrVuT

— Aaron Blake (@AaronBlake) August 7, 2017
CNN hired her after this. https://t.co/1FIfztvQxT

— Samuel Oakford (@samueloakford) August 7, 2017
The @GOP just named an overt racist as their National Committee spokeswoman. https://t.co/fVc9FZKGyz

— Matthew Chapman (@fawfulfan) August 7, 2017
Meet the new @RNC spokesperson. Here's a nice flashback from 2012… https://t.co/gsCWIl0Irx

— Joy Reid (@JoyAnnReid) August 7, 2017
I'd say she should've deleted her old tweets but obviously nothing matters anymore https://t.co/Kl7i6cmGex

— Olivia Messer ? (@OliviaMesser) August 7, 2017
RNC approved https://t.co/twXlf079Ha

— Alex Griswold (@HashtagGriswold) August 7, 2017
Good to see the RNC nakedly embracing the modern values that win Republicans elections. https://t.co/o3LV3WuViQ

— Matt Fuller (@MEPFuller) August 7, 2017
Hey @JeffFlake, here is your new RNC spokesperson from 2012. This is what your party is all about. https://t.co/oLQ5iwcGWe

— Erick Fernandez (@ErickFernandez) August 7, 2017
That McEnany tweet wasn't the only one that raised eyebrows today. Here's some of her other questionable past statements that have resurfaced today:
Who cares if women can serve? Trust me. They're not chomping at the bit to be on the front lines. Let's move on. More important topics.

— Kayleigh McEnany (@kayleighmcenany) February 23, 2012
birth certificates and college transcripts #ThingsThatEnrageDemocrats

— Kayleigh McEnany (@kayleighmcenany) August 20, 2012
Michael Calderone of Huffington Post has noted that McEnany might do more "real news" segments on Trump's Facebook account in the future.
RNC doesn't rule out McEnany could still do Trump "real news" videos produced by the re-election campaign https://t.co/RyH99zkriO

— Michael Calderone (@mlcalderone) August 7, 2017
[Image via screengrab]
— —
>> Follow Ken Meyer (@KenMeyer91) on Twitter
Have a tip we should know? tips@mediaite.com