Twitter Flips Out Over Bonkers Scaramucci Comments: 'One of the Most WTF Documents I've Ever Read'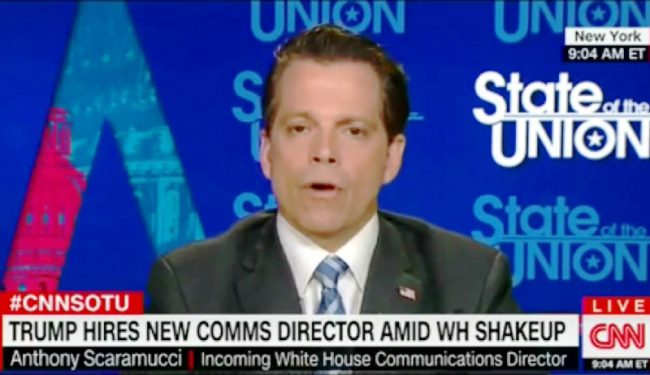 Have you seen Anthony Scaramucci's absolutely bonkers New Yorker interview? Please say you have. If not, well, you need to read the whole thing right this instant.
Go ahead, we'll wait.
…
Crazy, right? We told you.
Twitter, naturally, has just completely flipped out over this stunning interview. Here is a sampling of the social media reaction:
This interview with Scaramucci is one of the most wtf documents I've ever read: https://t.co/N7LRAoGT3d

— Ezra Klein (@ezraklein) July 27, 2017
Say what you will about Sean. He was experienced enough to say 'off the record' https://t.co/kmW2Sqlyks

— Glenn Thrush (@GlennThrush) July 27, 2017
Sean Spicer randomly quitting because he didn't want to work for Scaramucci suddenly makes a lot more sense https://t.co/OIQVDurTO4

— Matt Pearce (@mattdpearce) July 27, 2017
Today is the day that Scaramucci truly became communications director.

— Evan Osnos (@eosnos) July 27, 2017
fact-checker: i'm calling to run something by mr. bannon
rep: ok, shoot
fact-checker (nervous): is bannon currently attempting autofellatio pic.twitter.com/3g5LlkbMl0

— Cecilia D'Anastasio (@cecianasta) July 27, 2017
scaramucci should do the next boy scouts address

— Gideon Resnick (@GideonResnick) July 27, 2017
So proud to have the sentence "I'm not Steve Bannon, I'm not trying to suck my own cock" on @newyorker dot com today https://t.co/YMPgIfXdfM

— Jessica Winter (@winterjessica) July 27, 2017
Picturing Steve Bannon trying to suck his own cock is the cure for male homosexuality that Mike Pence has been desperately searching for.

— Marie Connor (@thistallawkgirl) July 27, 2017
for as curious as I was to see Sean Spicer on Dancing With the Stars I'm now even more interested to see Steve Bannon on Americas Got Talent

— Matt Oswalt (@MattOswaltVA) July 27, 2017
<throws sack on White House lawn, Reince Priebus' severed head tumbles out>
"No further comment." https://t.co/Lsi9OH1h2O

— Jonah Goldberg (@JonahNRO) July 27, 2017
"This guy's fucking out of his mind," former Cruz communications chief Rick Tyler says of Scaramucci.

— Daniel Dale (@ddale8) July 27, 2017
And again, to be clear, THE MAN TASKED W WHITE HOUSE PRESS JUST TOLD A REPORTER: "I'm not Steve Bannon, I'm not trying to suck my own cock." https://t.co/9STON7JORT

— Ashley Parker (@AshleyRParker) July 27, 2017
Congratulations, America. "Can Steve Bannon actually suck his own cock?" is now a reasonable question for White House reporters to ask.

— Rex Huppke (@RexHuppke) July 27, 2017
Related: Steve Bannon is reported to have been alone in his office with the door closed for well over an hour now.

— colbyhall (@colbyhall) July 27, 2017
Basically, Mini-Me is hurling grenades all over the White House, apparently acting on the boss's frustrations. https://t.co/6Rg42G0qkB

— David Axelrod (@davidaxelrod) July 27, 2017
Yes, the legislative branch is trying to destroy healthcare, but the executive branch is forcing us to imagine Steve Bannon's dong.

— Josh Gondelman (@joshgondelman) July 27, 2017
Oh my. I just read this. And I thought it was impossible for today to get more Lord of the Flies. https://t.co/R28AXsdcoT

— Chris Murphy (@ChrisMurphyCT) July 27, 2017
Mooch should just end every press briefing and interview from here on out with, "The Aristocrats!"

— Mark Hemingway (@Heminator) July 27, 2017
[image via screengrab]
——
Follow Joe DePaolo (@joe_depaolo) on Twitter
Have a tip we should know? tips@mediaite.com
Joe DePaolo - Senior Editor