This morning, President-elect Donald Trump once again took to Twitter to potentially set the news cycle on fire. In this instance, he wanted to make mention of China seizing an unmanned Navy drone in the South China Sea this week.
However, his initial tweet didn't go quite as planned.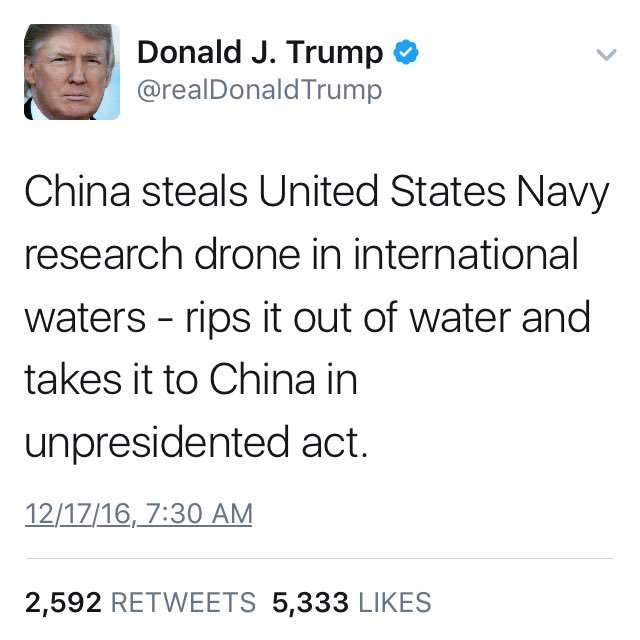 Trump would eventually delete this tweet and replace it with a corrected one. But the damage was already done regarding the possible Freudian slip. As one would expect, Twitter users pulled out the snark and just unleashed on Trump today.
.@realDonaldTrump TFW the president-elect confuses "unprecedented" with made-up word #unpresidented. pic.twitter.com/Gh9u2cNPVH

— Erick Fernandez (@ErickFernandez) December 17, 2016
The most perfect Freudian slip of all time. #Unpresidented pic.twitter.com/NWjsd9krq9

— Bethany Sprinkle (@be_than_y) December 17, 2016
It's totally #unpresidented having a president so smart he doesn't need intelligence briefings but so dumb he doesn't know how to spell.

— Brian Klaas (@brianklaas) December 17, 2016
So we're going from one of the great orators in US History to a guy who spells #unpresidented. This is fine.

— Julie DiCaro (@JulieDiCaro) December 17, 2016
Well, we have our headline for the day he's impeached. #unpresidented

— THEO (@TeddyKGB) December 17, 2016
#unpresidented indeed. pic.twitter.com/rHCv3ytHka

— Chris Sacca (@sacca) December 17, 2016
Nixon was evil but he wasn't ignorant.
W was ignorant but he wasn't evil.
The incoming combo is #unpresidented

— John Fugelsang (@JohnFugelsang) December 17, 2016
.@realDonaldTrump Thankfully the Internet is forever and your #unpresidented tweet is too. pic.twitter.com/VitBfHvzhF

— Shannon Watts (@shannonrwatts) December 17, 2016
Screenshots are forever. Or as Trump would say, fourever. #unpresidented pic.twitter.com/70ZqGDU80o

— Aღanda (@GrnEyedMandy) December 17, 2016
[image via screengrab]
–
Follow Justin Baragona on Twitter: @justinbaragona
Have a tip we should know? tips@mediaite.com