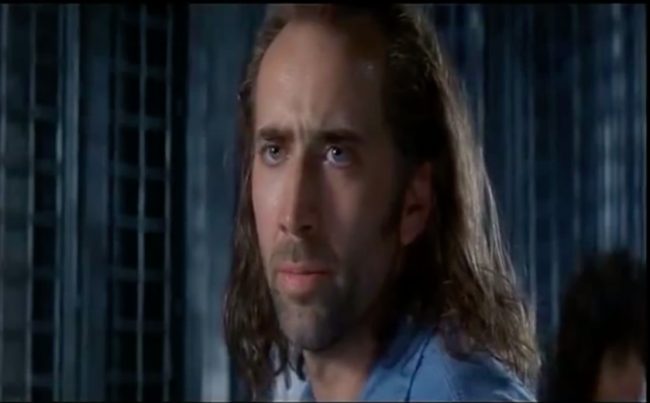 Kazakhstan doesn't make the news much. There was Borat … and really that's about it.
That, however, was before Nicholas Cage.
The star of such classics as Con Air, Face/Off and numerous National Treasures was in the capital city of Astana Sunday for 13th Eurasia International Film Festival, the country's Astana Times reported. While there, Cage posed for a photo with First Lady Sara Nazarbayeva. Bedecked in traditional Kazakh garb in a strange place the photo took on a life of it's own Sunday, racing across the Internet.
Twitter users were abuzz trying to make sense of the image and just what exactly Cage was doing with his life.
User @fabrice_deprez appears to have got the ball rolling.
In other news, Nicolas Cage is in Kazakhstan. pic.twitter.com/ceAk0ktgqy

— Fabrice Deprez (@fabrice_deprez) July 23, 2017
And from there it took on a life of its own.
Nic Cage is in Kazakhstan doing a François Hollande in traditional garb but so far shying from a full Seagal, which involves riding a horse. pic.twitter.com/1cFUtrGRwM

— max seddon (@maxseddon) July 23, 2017
Why does it feel like Nicolas Cage is about to become a part of this whole Russia scandal? pic.twitter.com/Hpfdmsd1xj

— Frederick Douglass (@HITEXECUTIVE) July 24, 2017
Nicolas Cage in Kazakhstan.
With new law on political service, won't be eligible for Presidency. pic.twitter.com/ZGoZ2c6vA4

— ian bremmer (@ianbremmer) July 23, 2017
I kinda feel like all of America is Nicholas Cage in this photo.

How did we get here? What is all this Russia shit everywhere? Huh? pic.twitter.com/gPt0fRqHE9

— Eric Garland (@ericgarland) July 23, 2017
Nic Cage is in Kazakhstan doing a François Hollande in traditional garb but so far shying from a full Seagal, which involves riding a horse. pic.twitter.com/1cFUtrGRwM

— max seddon (@maxseddon) July 23, 2017
Nic Cage is in Kazakhstan..here with the First Lady. It's likely he got paid for this (he's broke), I have reached out to his publicist. pic.twitter.com/0sdyIBf4Js

— Yashar Ali (@yashar) July 23, 2017
Nic Cage in Kazakhstan added to the photo of "People who don't know WTH they're doing there". pic.twitter.com/eNJSlAX0Fi

— Persian Rose (@PersianRose1) July 24, 2017
This picture of Nicholas Cage in Kazakhstan pretty much made my day. pic.twitter.com/FauuOJBK5H

— Nathan Hodge (@nohodge) July 23, 2017
Unbeknownst to all of us, Nic Cage is living in the darkest of dark timelines pic.twitter.com/5JQ3Squvzc

— joel tyler (@joeltyler_) July 23, 2017
[image via screengrab]
Have a tip we should know? tips@mediaite.com