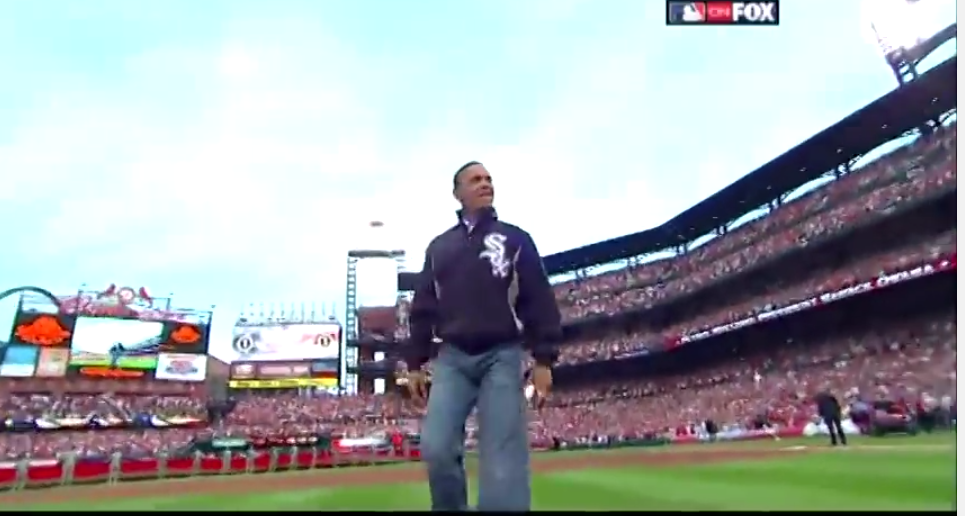 Ever since President Obama showed up to throw out the limp-wristed first pitch at the 2009 MLB All-Star game, there have been two questions on the minds of the American people.
The first is how a man his age could not know that he can't throw a baseball and would embarrass himself in front of millions of people.
The second is how the coolest President in history could be caught dead wearing "dad jeans."
Despite enduring a week where its journalistic integrity has come into question like never before, CNN has decided to do some hard-hitting investigating about the progress of Barack Obama's jeans.
In a piece titled, "Obama's jeans game gets strong(er)", CNN chronicles the evolution of the ex-president's choice in denim pants, ultimately concluding that he has come a long way in terms of acceptable style.
As expected, the Twitterverse was quick to jump on CNN with unrelenting mockery.
Obama's jeans game gets strong(er) https://t.co/KMTrNGHDeB pic.twitter.com/Zp1E4JCeBj

— CNN Politics (@CNNPolitics) June 28, 2017
The same day @brianstelter moans about "anti-journalism" bias, @CNN publishes an article about how @BarackObama looks handsome in jeans. pic.twitter.com/TupnGl0rXJ

— PragerU (@prageru) June 28, 2017
Amidst all of these accusation of "fake news," CNN has set out to improve its journalistic reputation.

It isn't going well so far. https://t.co/eWCuodYE6s

— Matt Walsh (@MattWalshBlog) June 28, 2017
And this is why no one trusts CNN. Everybody knows Obama wears mom jeans. ? https://t.co/UxfV7OqnKe

— No One ?? (@tweettruth2me) June 28, 2017
Breaking news from CNN: Obama has ditched the "Dad jeans." https://t.co/YY848iEy49

— Colleen Nelson (@ColleenMNelson) June 28, 2017
CNN INVESTIGATES: OBAMA'S JEANS… https://t.co/XrU2VenwWG

— DRUDGE REPORT (@DRUDGE_REPORT) June 28, 2017
THIS is why no one takes you seriously..? https://t.co/F71NM5rv6U

— Joseph Johnson (@Joseph72johnson) June 28, 2017
I'm starting to see what Trump is saying about CNN.https://t.co/gJWojtefHu

— I'm So Over This (@Johngcole) June 28, 2017
CNN has separation anxiety https://t.co/sWASoPN9ix

— Real™️ Mr. Breeze (@HydroTech12) June 28, 2017
This must be the "journalism" @brianstelter keeps telling us about. https://t.co/Jvp9G7yaEd

— Joel B. Pollak (@joelpollak) June 28, 2017
This is @CNN news, folks. Do you like Baracks jeans. Mercy.

? .@KateBennett_DC https://t.co/bn9m3AgFSr

— Marta Lisle ? (@UrUnpaidPundit) June 28, 2017
Thank you CNN for that hard-hitting news. about Obama's Jeans. Now … about his handling of Russia election tampering? Any news there?

— Wes Walker (@Republicanuck) June 28, 2017
From lies about Trump to fawning over Obama's jeans? Eewww
CNN: 'Obama's Jeans Game Gets Strong(er)'#AmericanPravdahttps://t.co/INgomQ10Bn pic.twitter.com/2UYbP5IL1E

— Linda Suhler, Ph.D. (@LindaSuhler) June 28, 2017
[image via screengrab]
This is an opinion piece. The views expressed in this article are those of just the author.