Twitter Ridicules Alex Jones For Trying to Pass Off Public Document as Secret FISA Memo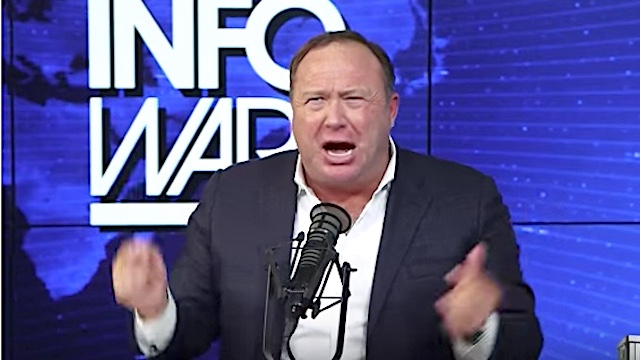 Over the past few days, you've probably noticed the cry of #ReleaseTheMemo from some GOP lawmakers and members of the pro-Trump media. This is all referring to a classified memo written by Rep. Devin Nunes (R-CA) and his staff that supposedly contains explosive information that shows federal officials abused their power in obtaining FISA warrants. While conservatives are pointing to the memo as a reason to discredit the Trump-Russia probe, Nunes has insisted on keeping the doc secret — even refusing to allow the FBI to view it.
During his InfoWars broadcast today, noted conspiracy theorist Alex Jones touted that he had a huge exclusive. Yep, that's right. He totally had the secret FISA memo that showed that President Barack Obama had spied on Donald Trump and his associates and OH MY GOD!!!
Except, of course, he didn't. What he had was a publicly released document that had been available for months.
Guys, he's reading from a declassified FISC order. https://t.co/ItpYeuxB5T https://t.co/Fak1aIJ1Ce

— Brad Heath (@bradheath) January 23, 2018
And Twitter did what Twitter does best — point and laugh at Alex Jones for doing Alex Jones things.
LOL yep, this document that Alex Jones claims to have exclusively obtained is already public https://t.co/q955IckTBL https://t.co/1272Q7z83b

— Lachlan Markay (@lachlan) January 23, 2018
Bahahahaha. Infowars just posted an 'exclusive' that they've got that secret "memo" about spying on the Trump campaign. Except they don't. It's a FISA Court opinion on 702 that's been public for months. https://t.co/dXYJuhZGqs

— Julian Sanchez (@normative) January 23, 2018
So Alex Jones is claiming he has the FISA memo, but… pic.twitter.com/QhOyNq40Lj

— Will Sommer (@willsommer) January 23, 2018
Alex Jones: I HAVE THE SECRET MEMO

::Shows four pages of it::

Everyone: Actually, it's this old document: https://t.co/0PwZDXxQH2

— Jim Swift (@JSwiftTWS) January 23, 2018
Alex Jones trying to release the memo. pic.twitter.com/8Dm6DrGIlg

— The Reagan Battalion (@ReaganBattalion) January 23, 2018
hearing alex jones is in the news

— Charlie Warzel (@cwarzel) January 23, 2018
im super surprised that alex jones, the guy who thinks 9/11 was an inside job and that sandy hook was done by "crisis actors" would get the fisa memo story wrong. i am also shocked to find gambling going on here.

— Oliver Willis (@owillis) January 23, 2018
Oops. That memo you think is your big exclusive? Yeah, it was declassified and published last Spring. https://t.co/0UZfhqNd37

— jeremy scahill (@jeremyscahill) January 23, 2018
LOL. Here is a link from last Spring to the declassified document that nitwit Alex Jones is touting as his exclusive publication of the FISA memo: https://t.co/0UZfhqNd37

— jeremy scahill (@jeremyscahill) January 23, 2018
Alright, seems like we've got Alex Jones either lying or getting fooled about what he has.

— Matthew Gertz (@MattGertz) January 23, 2018
Why is @RealAlexJones doing a #FalseFlag leak by pretending a declassified document is the real memo? Did the #DeepState get to him? Why is he trying to distract us from the real memo? #ReleaseTheMemo #QAnon

— Brandt (@UrbanAchievr) January 23, 2018
Alex Jones claiming right now that he has the FISA memo: "We have the secret memo!" pic.twitter.com/JO1zSz6g8I

— Oliver Darcy (@oliverdarcy) January 23, 2018
GAME OVER CUCKS https://t.co/Q8fXjMqxiK

— Kilgore Trout (@KT_So_It_Goes) January 23, 2018
[image via screengrab]
—
Follow Justin Baragona on Twitter: @justinbaragona
Have a tip we should know? tips@mediaite.com