Twitter Reacts to Disturbing Gordon Hayward Injury: 'Absolutely Gut Wrenching'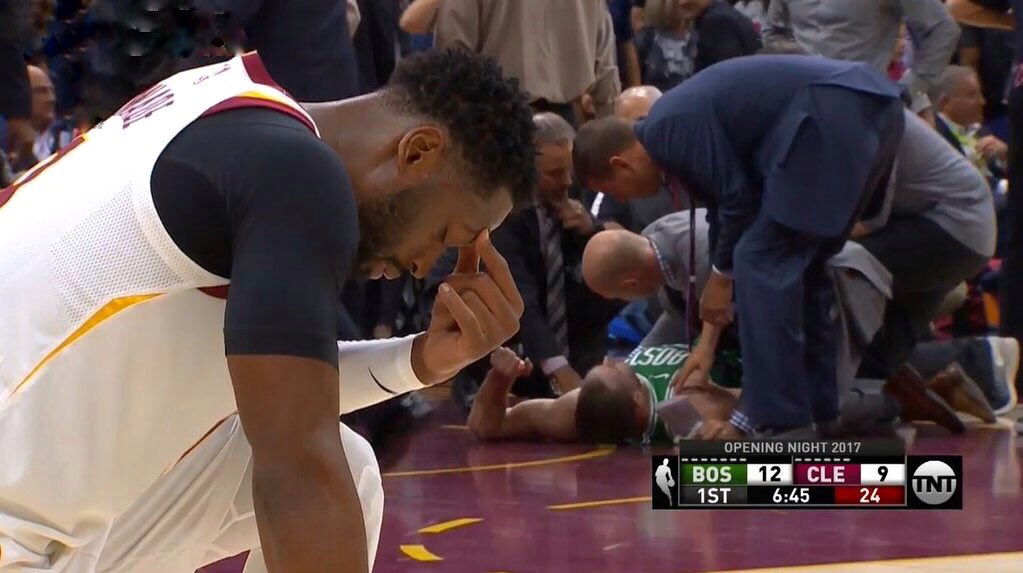 During his first game sporting the green and white colors of the Boston Celtics, NBA guard Gordon Hayward suffered an extremely disturbing leg injury while playing against the Cleveland Cavaliers.
Less than half-way through the first quarter, Hayward took a nasty fall while attempting to finish an alley-oop. An unnatural landing resulted in his left-leg bending and seemingly breaking. Players from both teams immediately reacted with horrified expressions and disturbed body language.
Hayward was then carted off court to a thunderous applause and sent to the locker room — where Cavs' star LeBron James reportedly met him. According to ESPN, Hayward has suffered a fractured ankle.
As with many gruesome injuries, Twitter reacted with showers of "thoughts and prayers," as well as with just pure shock.
Praying for my guy @gordonhayward!!! NEVER want to see any of the guys go through anything like that.

— DeAndre Jordan (@DeAndre) October 18, 2017
Prayers up for you @gordonhayward

— CJ McCollum (@CJMcCollum) October 18, 2017
— Paul George (@Yg_Trece) October 18, 2017
God bless you bro @gordonhayward ! ?? help him thru this god!

— Paul George (@Yg_Trece) October 18, 2017
Sports aren't good

— Mike Rutherford (@CardChronicle) October 18, 2017
Holy shit that Hayward injury is horrific. Man that's absolutely terrible

— Big Cat (@BarstoolBigCat) October 18, 2017
Our thoughts and prayers go out to Gordon Hayward. #BiggerThanBasketball

— Cleveland Cavaliers (@cavs) October 18, 2017
The 3 most gruesome basketball injuries I've ever seen on TV.

•Kevin Ware
•Paul George
•Gordon Hayward

— Dylan (@DylansFreshTake) October 18, 2017
Bench reax pic.twitter.com/QQ2l9N1eD0

— Timothy Burke (@bubbaprog) October 18, 2017
LeBron James just went into Cavs locker room where Gordon Hayward is receiving medical attention

— Brian Windhorst (@WindhorstESPN) October 18, 2017
quite possbly the take of the year. king's stay king's https://t.co/CxvSzCgOhK

— PFTCommenter (@PFTCommenter) October 18, 2017
LeBron gives Gordon Hayward some words of encouragement following his injury. pic.twitter.com/VW4HDDoP2k

— Bleacher Report (@BleacherReport) October 18, 2017
Celtics gather after Gordon Hayward is carried off pic.twitter.com/A7UjjM03ob

— Sports Illustrated (@SInow) October 18, 2017
Can't even put into words.
Gordon Hayward.
Feeling for you man.
Absolutely gut wrenching.

— JJ Watt (@JJWatt) October 18, 2017
Prayers up @gordonhayward !!

— John Wall (@JohnWall) October 18, 2017
All the best to Boston's Gordon Hayward. Heartbreaking to see such a great player injured that way. Speedy recovery. @gordonhayward pic.twitter.com/leBDQBgLqv

— Jay Bilas (@JayBilas) October 18, 2017
WARNING: Graphic video of Hayward's injury below.
GRAPHIC: Celtics player Gordon Hayward stretchered off floor in Cleveland after horrific-looking leg injury

— Breaking911 (@Breaking911) October 18, 2017
[featured image via screengrab]
Follow Caleb Ecarma on Twitter. 
Have a tip we should know? tips@mediaite.com