Twitter Reacts to LaVar Ball's Insane CNN Interview: 'The Highest Level of Performance Art'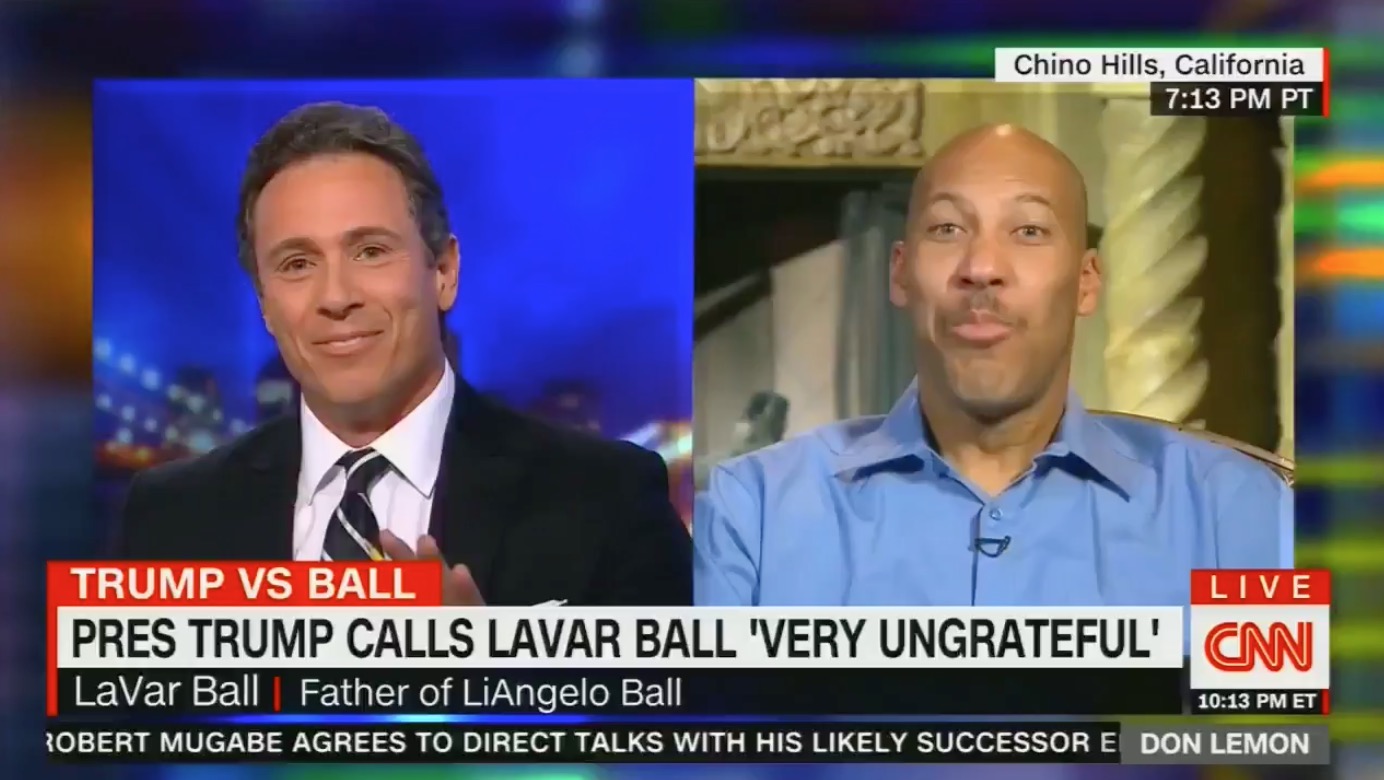 Twitter has so many feelings about Chris Cuomo's interview with LaVar Ball over his battle of wills with President Trump.
Ball's son was one of the UCLA basketball players who recently returned to the U.S. after Trump asked the Chinese president to drop the shoplifting charges against them and release them. Ball dismissed Trump's involvement in the negotiations on the matter, and the president retaliated by saying maybe he should've left the student-athletes in prison for a few years.
When Ball came on CNN to talk about this…well…things went WAY off the rails and you're better off just watching it for yourself.
All in all, while the Twitterverse is still debating whether the interview was wildly entertaining or a cringe-inducing nightmare, it seems like everyone can agree the whole thing amounted to a full-scale train wreck.
I hate Trump more for making me aware this guy exists than for anything else he's ever done. I consider my knowledge of Ball's existence an impeachable offense. https://t.co/3remFpQiab

— John Podhoretz (@jpodhoretz) November 21, 2017
LaVar Ball is either a genius or crazy or something I don't even know about yet

— Brian Flood (@briansflood) November 21, 2017
I have completely turned around on this interview in the last 2 minutes. It is the highest level of performance art. Absolutely sensational. https://t.co/JuMyVhLwU4

— Christian Schneider (@Schneider_CM) November 21, 2017
Is there a reason Lavar Ball is getting a 20-minute interview when there's actual stuff happening in the world.

— Kyle Feldscher (@Kyle_Feldscher) November 21, 2017
$1k says LaVar Ball gets a CNN contributor offer.

— Will Cain (@willcain) November 21, 2017
I want to nominate #LaVarBall for #worstfatheroftheyear on @CNN right now. Making excuses for his kid stealing, "he didn't kill anyone!"

— Ben Ferguson (@benfergusonshow) November 21, 2017
What are we doing pic.twitter.com/TwsWM5lzoJ

— Dan Steinberg (@dcsportsbog) November 21, 2017
"Chrismo" LaVar Ball pic.twitter.com/XpgkbWPj4l

— SalenaZito (@SalenaZito) November 21, 2017
I've been howling with laughter for 10 minutes pic.twitter.com/NkX32s8FZK

— J.D. Durkin (@jiveDurkey) November 21, 2017
This is everything wrong with the American media. #CNN #LavarBall

— Jason Whitlock (@WhitlockJason) November 21, 2017
best twenty minutes in television history pic.twitter.com/aCRMZXXOVB

— Josh Billinson (@jbillinson) November 21, 2017
I want to nominate #LaVarBall for #worstfatheroftheyear on @CNN right now. Making excuses for his kid stealing, "he didn't kill anyone!"

— Ben Ferguson (@benfergusonshow) November 21, 2017
[Image via screengrab]
— —
>> Follow Ken Meyer (@KenMeyer91) on Twitter
Have a tip we should know? tips@mediaite.com