Twitter Shocked By Trump's Retweeting of Graphic Anti-Muslim Videos from Extremist: 'When You've Lost Infowars'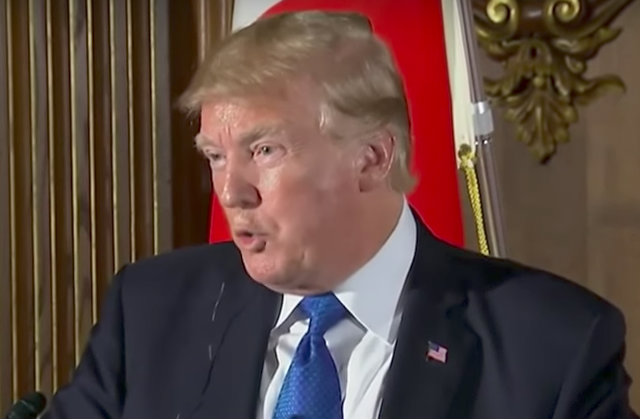 President Donald Trump's Twitter habits have reached such extreme levels that they hardly have the shock value they once had, but his retweets this morning surprised and bewildered some of his most ardent supporters.
The president shared three videos posted by an anti-Muslim activist and leading official of the right-wing UK political party Britain First. The clips were titled "Muslim migrant beats up Dutch boy on crutches," "Muslim Destroys a Statue of Virgin Mary," and "Islamist mob pushes teenage boy off roof and beats him to death."
Britain First and the original poster Jayda Fransen are known for attempting to use anti-Muslim content to rile up outrage against immigrants. In response to Trump's support, Fransen tweeted, "GOD BLESS YOU TRUMP! GOD BLESS YOU AMERICA!"
Twitter reacted to the president's disturbing retweets with an array of anger and shock, as can be seen below.
Bredan Cox, the husband of U.K. Member of Parliament Jo Cox, who was murdered in 2016 by a Britain First supporter, tweeted that Trump "should be ashamed of himself":
Trump has legitimised the far right in his own country, now he's trying to do it in ours. Spreading hatred has consequences & the President should be ashamed of himself.

— Brendan Cox (@MrBrendanCox) November 29, 2017
This man's wife, a young British MP, was murdered at the hands of Britain First, a fascist, racist hate group Trump promoted this morning. https://t.co/zVgR2WfdCO

— Mindy Finn (@mindyfinn) November 29, 2017
President Trump is inciting hatred of a religious minority from the Bully Pulpit. If you're in a position of prominence in the Republican Party––or in his government––you have an obligation to speak out against this.

— Conor Friedersdorf (@conor64) November 29, 2017
It's going to be a great day as US journalists find out about Britain First.
Quick primer: Stunt-loving anti-Muslim far-right social media troll group increasingly ignored even in the UK. At least until the US President started retweeting them. https://t.co/MmmiI7MKfE

— Jim Waterson (@jimwaterson) November 29, 2017
Britain First is a racist, fascist organization that the President of the United States spent the morning legitimizing. https://t.co/00Vdn7y60W

— Noah Rothman (@NoahCRothman) November 29, 2017
Jayda Fransen, deputy leader of Britain First, was convicted of religiously aggravated harassment in November 2016 after abusing a woman wearing a hijab. https://t.co/rrIlLukLg7

— Gideon Resnick (@GideonResnick) November 29, 2017
So it's not lost in the sauce here: Trump is promoting hatred of Muslims. That's what those retweets were about. That is the content and the purpose of the tweets. https://t.co/DCHLxaePX0

— Spencer Ackerman (@attackerman) November 29, 2017
That video @realDonaldTrump retweets of a Muslim boy beating up a Dutch boy turns out to be a video of a Dutch boy with dark hair beating up a Dutch boy with blond hair. https://t.co/8pFZGWwl2Y

— Erik Voeten (@ErikVoeten) November 29, 2017
President Trump retweets the deputy leader of an ultra-nationalist and fascist (redundant) British political part. This should increase the value you place on major Left wing criticisms of the American Right.

— (((Alex Nowrasteh))) (@AlexNowrasteh) November 29, 2017
Trump just retweeted three anti-Muslim videos from a British woman who is a leader of an extremist group in the U.K. and was arrested for harassing a Muslim woman for wearing a hijab https://t.co/y8fDbyM0Jg

— Manu Raju (@mkraju) November 29, 2017
2/ Tweeting out anti-Muslim propaganda videos is also harmful to 26,000 US troops in harm's way in Iraq, Syria and Afghanistan, as well as others stationed in Muslim-majority countries. Their lives depend on trust of Muslim allies.

— Heather Hurlburt (@natsecHeather) November 29, 2017
Trump has railed against "illegals," African American athletes, used slur Pocahontas and shared anti-Muslim videos this week. It's Wednesday

— Jim Acosta (@Acosta) November 29, 2017
I hope our Government will condemn far-right retweets by Donald Trump. They are abhorrent, dangerous and a threat to our society.

— Jeremy Corbyn (@jeremycorbyn) November 29, 2017
Council on American-Islamic Relations spokesman Ibrahim Hooper says Trump's retweets are "incitement to violence" against Muslims. pic.twitter.com/C0FusEFdhU

— Daniel Dale (@ddale8) November 29, 2017
Even the president's supporters — from Trump-curious Piers Morgan to Infowars editor Paul Joseph Watson — criticized the retweets:
Good morning, Mr President @realDonaldTrump – what the hell are you doing retweeting a bunch of unverified videos by Britain First, a bunch of disgustingly racist far-right extremists?
Please STOP this madness & undo your retweets.

— Piers Morgan (@piersmorgan) November 29, 2017
Yeah, someone might want to tell whoever is running Trump's Twitter account this morning that retweeting Britain First is not great optics. ?

— Paul Joseph Watson (@PrisonPlanet) November 29, 2017
when you've lost InfoWars… pic.twitter.com/X0fQgIXccQ

— Natasha Bertrand (@NatashaBertrand) November 29, 2017
However, one of Trump's biggest fans was not shocked by the videos. In fact, former KKK Grand Wizard David Duke loved them:
Trump retweets video of crippled white kid in Europe being beaten by migrants, and white people being thrown off a roof and then beaten to death, He's condemned for showing us what the fake news media WON'T. Thank God for Trump! That's why we love him!

— David Duke (@DrDavidDuke) November 29, 2017
[image via screengrab]
Follow the author on Twitter (@calebecarma).
Have a tip we should know? tips@mediaite.com