Two American Kids Shipped To France In One Of The Worst Custody Decisions. Ever.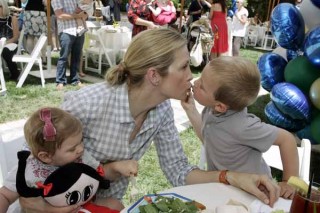 The TMZ headline blared "Devastated." Much of the entertainment media followed from People Magazine to E! covering the sad and prolonged custody battle in some way, shape or form. After all, the mother who lost the legal right to live with her two children is actress Kelly Rutherford, who portrays Lily Van der Woodsen on the television show Gossip Girl. The identity of the parties, however, isn't nearly as interesting or significant as the ruling itself — a judge ordering two American children to move to France, because their father, Daniel Giersch, who is not a French citizen, was expelled from the United States.
First some quick background: In 2009, when Rutherford was two months pregnant with their second child Helena, she apparently suspected Giersch was cheating on her and sought a divorce. The acrimonious case made headlines as they battled for custody of the children and hurled ugly allegations against one another. Rutherford didn't include Giersch's name on Helena's birth certificate and expressed concern that he would kidnap the children. By 2010, the vicious quarreling subsided (a bit) as the courts stepped in and while the children lived with Rutherford, Giersch remained an active part of particularly the elder child, Hermes' life. In April of this year, for reasons not entirely clear, Giersch's American visa was revoked, he was forced to leave the country, and moved to Monaco. It is clear that a former lawyer for Rutherford had conversations with the State Department about certain issues related to Giersch's "businesses" that ultimately led to him being booted. Rutherford denies she knew anything about it, Giersch insists she did, but regardless the State Department determined there was enough evidence to deport him.
Giersch's business remains enigmatic to say the least. People Magazine reported that he was accused of "dealing drugs and weapons," while an affadavit presented in the case accused him of fraud. When questioned about this by Rutherford's lawyer, Giersch was unwilling to even say definitively whether he is employed much less exactly what he does (or whether he has a house in the Hamptons for that matter). Whatever the cause, since he can no longer legally enter the United States, Rutherford has been traveling with the kids to Bermuda, Canada and France, among other places, to afford him visitation. Meanwhile, while Rutherford's official domicile was Los Angeles, she spends her time traveling back and forth to New York to shoot Gossip Girl.
Enter Judge Theresa Beaudet of California Superior Court, Los Angeles County who, as it turns out, presided over a similar type of case before. Judge Beaudet was left to determine with which parent the children should reside. Custody would be "joint" but that's somewhat moot when one parent lives across the Atlantic. In all custody cases, the court must look to what is in the "best interest" of the children, a somewhat squishy standard with multiple prongs that dictates that the children's welfare must come first. There was no suggestion that Giersch was a better parent, just an exiled one. The two choices before the court: New York, where the kids had lived for much of their lives, made friends and had doctors, or the small town of Mougins, France where Giersch's mother apparently has a home. Put aside the absurd fact that neither of the parents are French citizens, both of these children were born and raised in the United States. Amazingly, the legal question was whether the children of a loving American mother should be forced to live in a country where neither parent has citizenship because their father had done something that made him ineligible to remain in the United States. Not surprisingly, an independent lawyer retained to represent the children's interests sided with Rutherford, arguing that the best interest of the children would be served by remaining in New York.
Judge Beaudet disagreed and ordered the move: "The best interests of the children will be served because the relocation plan for France is the only plan that offers the possibility of nearly equal parenting time while Giersch can not return to the U.S." Rutherford can legally fly to France and he can't legally fly here, so the American children's best interest is to be wherever exiled Papa is permitted to live? Judge Beaudet's ruling often seemed more like that of a travel agent seeking the most direct route and least time in the air, rather than evaluating the realities of moving American children to Europe. While Giersch is also required to continue to attempt to seek a new U.S. visa (and Rutherford has been ordered to help), it is a stunningly unrealistic ruling and whatever restrictions the judge imposes are totally unenforceable in French courts.
So, Rutherford must have done something wrong? A judge can't possibly have issued this sort of draconian ruling without something more?
Have a tip we should know? tips@mediaite.com