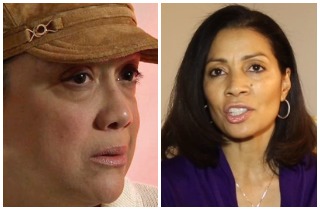 Yesterday, three more women spoke out accusing Bill Cosby of sexual assault. And today we can add two more names to the list: ex-teen model Renita Hill and actress Angela Leslie.
Hill told KDKA that she met Cosby when she was a 15-year-old aspiring actress. She worked on his educational TV segment "Picture Pages" and they ended up having a four-year relationship. She says Cosby flew her around to different cities and they would spend nights together.
On each of these nights, Hill claims, Cosby would offer her a drink despite her being underage. Sometimes she refused, but he would insist upon it every time. Hill believes she was drugged, and after something Cosby said to her once the next morning, she believes it's possible she was raped (though she doesn't know for certain).
Leslie, on the other hand, remembers very vividly what she described happened to her. She claims that she met Cosby in a Las Vegas hotel once for, she thought, a meeting to discuss her acting career. Leslie says Cosby had her pretend to act drunk and go wet her hair in the bathroom.
When she emerged, Cosby was undressed and in bed. And after beckoning her over to the bed, Leslie says, "he put my hand on his penis and he did the masturbation movements with his hands on top of mine."
She believes that since she didn't do what he wanted, Cosby intentionally ruined her career.
You can watch both women speaking out below, via KDKA and NYDN:
[image via screengrabs]
— —
Follow Josh Feldman on Twitter: @feldmaniac
Have a tip we should know? tips@mediaite.com
Josh Feldman - Senior Editor