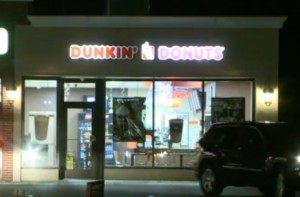 Two New England Dunkin' Donuts locations are under fire for behavior that detractors have derided as anti-police.
On Saturday morning in West Hartford, Connecticut, a police officer walked into a Dunkin' Donuts. "He didn't get the message," said one employee, looking right at him. "We don't serve cops here."
As the police officer left, the store's manager chased him down to apologize. The officer replied that the employee should apologize to the others in line who appeared to take offense. The manager then offered him a free coffee, which the officer declined.
Watch, via FoxCT.
The company's national office issued a statement apologizing for the franchise's behavior: "The crew member exhibited poor judgment and apologized immediately to the police officer. The franchise owner, a long-time supporter of local police, has also reached out to apologize on behalf of the restaurant. Dunkin' Donuts and our franchisees share a commitment to the well-being and fair treatment of all guests."
In another incident in Providence, Rhode Island, city police have demanded an explanation from a local Dunkin' Donuts after a police officer was given a coffee with "#blacklivesmatter" written on the side. "So my coworker just went to get a coffee at Dunkin Donuts on Atwells Avenue in Providence," an officer wrote on Facebook. "The worker was immediately rude, and didn't appear to want to serve him in Uniform. Upon leaving he noticed what she wrote on his coffee cup: #blacklivesmatter."
The local Fraternal Order of Police issued a statement denouncing the employee's actions: "Providence FOP #3 finds this action to be unacceptable and discouraging. Members of this Union, who represent active and retired Providence Police officers adamantly, believe that 'all lives matter'."
The officer in question later said that the franchisee eventually reached out to apologize.
[Image via screengrab]
——
>>Follow Alex Griswold (@HashtagGriswold) on Twitter
Have a tip we should know? tips@mediaite.com