Two Women Now Accuse George H.W. Bush Of Groping Them, Jokes About 'David Cop-A-Feel'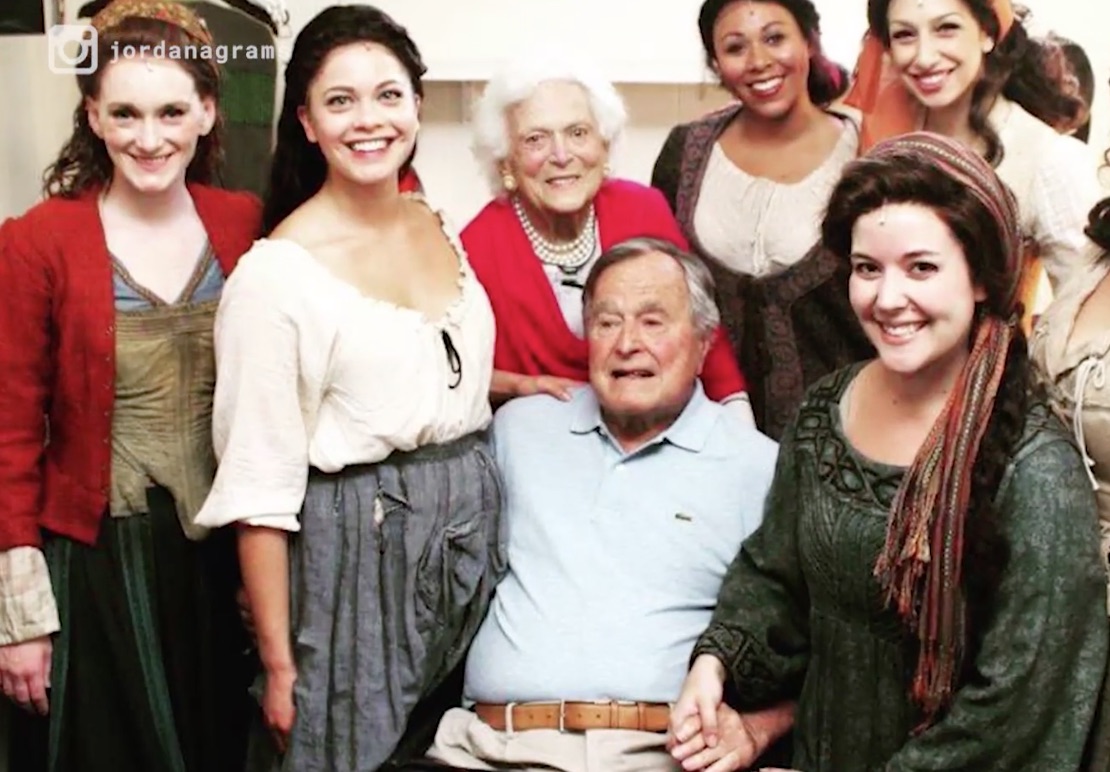 There are now two women who allege that former President George H.W. Bush has groped them.
In a now-deleted Instagram post, actress Heather Lind said she was triggered after seeing a photo of Bush shaking hands with former President Barack Obama at a recent hurricane relief fundraiser and had decided to share her story.
"But when I got the chance to meet George H. W. Bush four years ago to promote a historical television show I was working on, he sexually assaulted me while I was posing for a similar photo," she said. "He didn't shake my hand. He touched me from behind from his wheelchair with his wife Barbara Bush by his side. He told me a dirty joke. And then, all the while being photographed, touched me again."
After taking down her post, this photo circulated the internet.
Former US President George H.W. Bush Apologises After Actress Heather Lind Claims He… https://t.co/ULSMmWg7mQ pic.twitter.com/z1b7JEbSDN

— akpodeebright (@akpodee_b) October 25, 2017
Jim McGrath, a spokesman for the former president, issued a statement.
"President Bush would never — under any circumstance — intentionally cause anyone distress, and he most sincerely apologizes if his attempt at humor offended Ms. Lind," McGrath stated.
Another statement was released to provide further context.
JUST IN: Pres. H.W. Bush "has patted women's rears in what he intended to be a good-natured manner," his office says in new statement. pic.twitter.com/kmAqfxlBQZ

— NBC Nightly News (@NBCNightlyNews) October 25, 2017
"At age 93, President Bush has been confined to a wheelchair for roughly five years, so his arm falls on the lower waist of people with whom he takes pictures," McGrath elaborated. "To try to put people at ease, the president routinely tells the same joke — and on occasion, he has patted women's rears in what he intended to be a good-natured manner. Some have seen it as innocent; others clearly view it as inappropriate. To anyone he has offended, President Bush apologizes most sincerely."
Since that story was shared, another actress alleged something similar happened to her.
Jordana Grolnick met Bush backstage during an intermission of a Maine production of Hunchback of Notre Dame last year. At the time, she was told about his reputation of fondling women in photo ops but dismissed the warning.
"We all circled around him and Barbara for a photo, and I was right next to him," she told Deadspin. "He reached his right hand around to my behind, and as we smiled for the photo he asked the group, 'Do you want to know who my favorite magician is?' As I felt his hand dig into my flesh, he said, 'David Cop-a-Feel!'"
After telling the joke, others in the room "laughed politely and out of discomfort." Then Barbara Bush "said something along the lines of, 'He's going to get himself put into jail!' to which we laughed harder."
When she got home, she uploaded the group photo on her Instagram account.
In light of Lind's allegation and the thousands of women who have shared their sexual harassment stories after the Harvey Weinstein scandal broke, Grolnick felt compelled to share hers.
"I don't want to belittle Heather Lind for feeling violated. Now that the #metoo movement has brought this all to light, I think I should have been a little more alarmed to be touched so inappropriately by a man who was once the leader of the free world. He knows the power he has, and the reverence he deserves, even while sitting perhaps somewhat senile in a wheelchair. What I've come to realize is that if we tolerate these small comments and grazes from men on the street or former presidents, they might assume that it's ok with us, and they may take it as permission to do who-knows-what else. I realize that making light of the situation was the wrong move. It wasn't ok for him to do that to me. He wasn't able to give me a job or a movie deal, so I didn't feel compromised or pressured to do anything more, but the comments and assumptions about our bodies must stop, at all levels."
[image via Jordana Grolnick]
Have a tip we should know? tips@mediaite.com