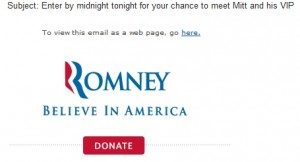 Typos have emerged as one of the sillier sidelines in this year's political coverage, with Republican presidential candidate Mitt Romney leading the way by urging a stronger "Amercia," and culminating in a Congressional SpellCheckalypse last week, which saw Democrats refuse to allow Republicans to correct a typo in a piece of legislation. The White House even got in on the fun by coining the word "Amerericans" on its Facebook page.
On Friday, though, the Romney campaign introduced a new wrinkle, the is-it-or-ain't-it-a-typo typo, inviting supporters to win a chance to meet Romney's "VIP," or his eventual running mate.
In an email to supporters Friday evening, the Romney campaign urged them to "Enter by midnight tonight for your chance to meet Mitt and his VIP," which is a fairly broad enticement. The email explains:
Friend,

Time is running out for you to enter to win your chance to personally meet Mitt and his running mate. We've already chosen two winners and we're about to select the third lucky winner.

Don't delay. Enter by midnight tonight.

Donate $3 now to be automatically entered for your chance to win. www.mittromney.com/donate/vp

Best of luck!

Abe Adams
Deputy Digital Director
Romney for President
http://twitter.com/AbeAdams
Now, in any other campaign, you could make the case that the eventual VP is, by definition, a VIP, but since Romney is expected to select a running mate with the gravity of a lawn gnome on Moon Base Gingrich, with the boldness of unsweetened white chocolate, that equation doesn't necessarily apply. According to the email, the "Approximate total retail value" of the prize, which includes one night in a $75 hotel and fifty bucks worth of ground transportation, is $975.
By putting "VIP" in the subject line, perhaps the Romney campaign feels they can save a cool grand if the VP pick turns out not to be a VIP, but just some dude who won't overshadow Mitt Romney. Is Casper the Friendly Ghost available?
Have a tip we should know? [email protected]