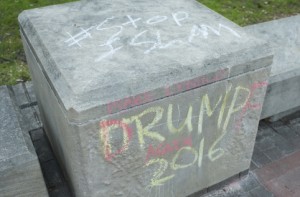 The national epidemic of college students being triggered by pro-Donald Trump chalk messages has continued anew, with students at the University of Michigan calling the police to complain after chalkings popped up there as well.
According to The Michigan Daily, messages reading "#stop Islam" and "Trump 2016" were found on campus Wednesday. "The statements, which were largely washed off by Thursday, prompted students to call University police…" they report.
"This is so reflective of our student campus and the depths of racism and the things that students of color have to endure and that the administration is continuously silent on," Michigan student Banen Al-Sheemary told the Daily.
Al-Sheemary lamented that the university's Division of Public Safety and Security had not responded to the chalkings. "I've been getting bounced around from one person to another, and I understand it's after hours, but there should be some kind of emergency number besides the police because a lot of students of color don't feel comfortable calling the police."
In the end, the students just washed them off themselves. "It's irresponsible of the administration that we are actually out here with buckets of water and napkins to clean off these hateful messages and the administration isn't taking care of it," Al-Sheemary said. "…That perpetuates these really racist and hateful stereotypes that turn into violence and turn into students of color feeling unsafe on campus."
In response to the controversy, Michigan's administration issued the following statement:
Earlier today someone used chalk to write a #stopislam message on the main square in the heart of our campus known as the Diag. Attacks directed toward any member or group within the University of Michigan community, based on a belief or characteristic, are inconsistent with our values of respect, civility and equality. We all understand that where speech is free it will sometimes wound. But our message is this: We are fully committed to fostering an environment that is welcoming and inclusive of everyone. Tonight we are reminded there is much work yet to be done.
The University of Michigan Wolverines were eliminated in the first round of the NCAA men's basketball tournament by the University of Notre Dame Fighting Irish.
[Image via The Michigan Daily]
——
>>Follow Alex Griswold (@HashtagGriswold) on Twitter
Have a tip we should know? tips@mediaite.com