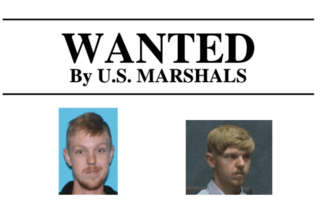 The US Marshals Service Friday released a wanted poster for Ethan Couch, the so-called "affluenza" teen accused of violating his probation and subsequently evading arrest.
Federal agents are offering a $5,000 reward for information leading to the arrest of Couch, who is described as a 5-foot-7 white or white hispanic male with blond hair green eyes.
Tarrant County, Texas issued the juvenile equivalent of an arrest warrant for Couch on Dec. 11, after video surfaced of the teen allegedly violating probation by playing beer pong. In 2013, a judge sentenced Couch to 10 years probation after he drove drunk and plowed into a group of drivers helping a woman with a flat tire. A blood test also showed traces of Valium in Couch's system.
The lenient sentence sparked outrage after Couch's lawyer successfully argued the teen could not be held entirely responsible for his actions because he suffered from "affluenza" and never had to deal with the consequences of his actions.
Now, Tarrant Country Sheriff Dee Anderson says Couch is priority number one for police. "You can run, but you're always going to be looking over your shoulder," Anderson told CNN. "We're not going to give up. We're going to come after you. We're going to find you, wherever you are."
Terry Grisham, a spokesman for the Tarrant County sheriff's office said "every person who carries a badge in the United States of America is aware he's a fugitive. Grisham later warned Couch is "going to see what the big-boy jail is like."
Authorities worry Couch and his mother, Tonya Couch, fled the country after the video surfaced. Police listed Couch's mother as a missing person Sunday; she could face charges if authorities determine she helped her son evade the criminal justice system.
Have a tip we should know? tips@mediaite.com