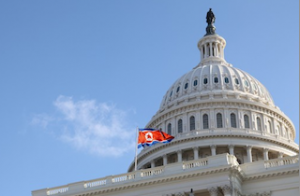 On a day when The Washington Post fell for a fake article about Sarah Palin joining Al Jazeera from parody site The Daily Currant, it's only a matter of time before North Korea embraces The Onion's latest front page story.
"America's Finest News Source" reacted to the news of North Kora's third nuclear test Tuesday with the headline "World Surrenders To North Korea." In the article, the writer explains that following the test "every nation on the planet has surrendered to the mighty East Asian dictatorship."
The piece goes on to quote President Obama as saying, "In the face of this immense show of military might, our choice has become clear: surrender now or be instantly annihilated." He becomes even more deferential as he continues, "At this point, we cannot resist the will of the North Korean dominion, nor would we want to. Our defeated nations and the people therein are hereby property of our Noble Leader, who henceforth may do with them as he wishes. May the divinely ordained dynasty endure for 1,000 years!"
We can only assume that Kim Jong-un is aware of The Onion after they named him the "Sexiest Man Alive" last November. China's Communist Party newspaper, People's Daily, picked up that story as fact an ran with it, causing plenty of confusion across Asia.
The only thing that could stop North Korea's supreme leader from believing The Onion is the last sentence of the article, which quotes Kim as saying, "The surrender of North Korea's global enemies was an inevitability that our adversaries were foolish to delay. In the coming weeks, the world's people will learn firsthand the dear price of their resistance." Unless that's something he would actually say…
—
>> Follow Matt Wilstein (@TheMattWilstein) on Twitter
Have a tip we should know? tips@mediaite.com