Under A Huckabee Administration, Women Won't Be 'Victimized' And 'Exploited' By Abortion Industry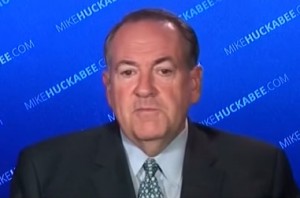 Republican presidential candidate Mike Huckabee told New Hampshire radio hosts Chris Ryan and Dean Spiliotes that under his administration, women would no longer be "victimized" by the abortion industry.
During a segment of Pints and Politics, Huckabee said as president, he "would like to believe" women will opt to carry a pregnancy to term, "rather than her thinking that [abortion] was her only option."
"She would not allow herself to be victimized by an industry that has exploited women for 42 years, and made a lot of money off of them, and never told them the full story of the physical implications of this surgical procedure and especially never told them the emotional perspective," Huckabee said.
Drawing on his presumably extensive experience at women's heath care clinics, Huckabee continued, "the woman who's having the abortion is told on one end of the building that it's not a person, it's just a blob of tissue, and there's really nothing there but just un-animated tissue." In contrast, Huckabee said, "once the abortion is done, at the other end of the building, if it's Planned Parenthood, they're selling heart, lungs, livers, and kidneys."
"I think we're a more civilized people than that, and I think we need to stop exploiting women, making money off of em' and lying to them, that they are just having a little, minor surgical procedure, like a tooth extraction," Huckabee said to nods of approval from the hosts.
"Let's bring the science into it," Huckabee suggested before insisting, "the more we know the more we become convinced that we're talking about a human life."
"Is it guaranteed equal protection under the law? If that's an unborn child, a person, than that baby has constitutional rights." Huckabee said. The former governor of Arkansas posited that the way people react to pregnancies is indicative of the fact that a fetus is a person.
"Have you ever heard a woman who got their positive pregnancy test back call their husbands and say, 'Honey I just got the news, I'm gonna have a blob of tissue!' You ever heard that? Never," Huckabee concluded.
Huckabee said he wants "to remind people, that once you've accepted the premise that you can end a human life, because it represents a financial burden, or a social distraction… once you've made that decision, that you can end a human life," then "at any point of that person's life, you've given us justification, to take a person's life if it becomes too expensive or if it represents a huge social disruption in the family's life."
Watch the full interview above, via WKXL.
[Image via screengrab]
—
>> Follow Elizabeth Preza on Twitter (@lizacisms)
Have a tip we should know? tips@mediaite.com