Undercovered: Mothers and Newborns Who Can't Leave The Hospital Until Debts Are Paid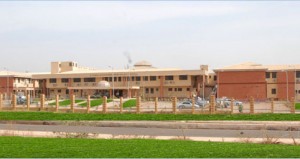 Undercovered is our daily feature bringing attention to excellent reporting on women's issues worldwide, which we feel deserves a larger audience.
—
In maternity wards across Nigeria women and their newborn children are forbidden from leaving the hospital until their debts are paid. Some patients sleep on the floor. Sometimes nurses put all of the babies in one bed while the women sleep in chairs. Some babies have remained in the hospital from the day of their birth until they started to crawl.
Adaobi Tricia Nwaubani, reporting from Umuahia, Nigeria, writes:
Four months after giving birth in Umuahia, the capital of Nigeria's southeastern Abia state, 23-year-old single mother Amarachi Amadi is still in hospital with her baby girl.

While the mother and her daughter are in good health, they are not allowed to leave the public hospital until Amadi settles the 543,000 naira ($1,900) bill for their care.

Amadi, who makes a living selling stones to construction workers for 40 naira ($0.15) per sack, fears she may never be able to clear her debt – leaving her and her baby trapped in the Umuahia Federal Medical Centre (FMC) for the foreseeable future.

"I have really suffered … and they do not allow me to go out," said Amadi, who relies on her mother to bring food into the hospital and to help her care for her baby, Oluebubechi.

New mothers like Amadi are stuck in maternity wards across Nigeria – forbidden from leaving until their debts are settled.

Known as Awaiting Bill Settlement (ABS) patients, these women are responsible for looking after and feeding themselves and their newborns.
You can read the complete report from the Thomson Reuters Foundation here.
—
Undercovered is a daily feature from Mediaite, bringing attention to stories about women's rights that warrant more attention. Go through the Undercovered archives here. If you have an idea or a tip, please email us at Undercovered@mediaite.com
[photo: Primus International Superspeciality Hospital, Karu Abuja, Nigeria. SudhirSRathore, via Wikicommons. CC BY-SA 3.0]
Have a tip we should know? tips@mediaite.com