Undercovered: New Report Says Nuclear Power Plants More Vulnerable Than Regulators Said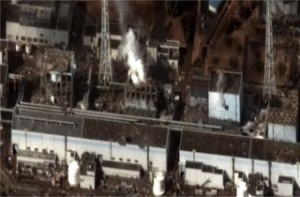 Welcome to Undercovered: our new daily feature bringing attention to excellent reporting and stories we feel deserve a larger audience.
—
Nuclear power plants in the United States are more vulnerable to the threats of natural disaster or terrorism than federal regulators have said, according to study released May 20 by the National Academies of Sciences, Engineering, and Medicine.
The Academies' study is something of a rebuke to a 2014 study by the Nuclear Regulatory Commission, a government agency that oversees the nuclear power industry. According to the chair of Academies board, the NRC's study neglected to adequately evaluate the risks posed by terrorism or sabotage to nuclear power plants, specifically to the aboveground pools that hold the spent nuclear fuel. There are 96 such pools in the U.S. spread out across 30 states.
Both studies were a response to the disaster in March 2011 when an earthquake and tsunami slammed a nuclear power plant in Fukushima, Japan, triggering a power failure that shut down the coolant systems, leading to a meltdown of radioactive cores in three reactors.
Patrick Malone and R. Jeffrey Smith, writing for the Center for Public Integrity explain:
The report said the industry and the NRC need to strengthen "their capabilities for identifying, evaluating, and managing the risks from terrorist attacks." It said the commission, which regulates the industry, sets safety standards, and enforces compliance, should finally carry out a promise it made a decade ago to organize an independent review of the industry's spent fuel surveillance and security measures. And it said the commission also needs to conduct a more realistic appraisal than it has so far of the health consequences of a severe nuclear accident.

The NRC staff "did not provide the committee with a technical analysis to support its assertion that security requirements are being effectively addressed in its regulatory program," the Academies report said.
The NRC were tepid on the Academies' study. "Even with the recommendations that the Academies' board has put together, we continue to conclude that spent fuel is being stored safely and securely in the U.S.," Scott Burnell, an NRC spokesman, said. "Nothing in the report causes immediate concern."
Nonetheless, Burnell said that the NRC will review the report and issue a formal response later in the year.
—
"Undercovered" is a new daily feature from Mediaite, bringing attention to stories that warrant more attention. If you have an idea or a tip, please email us at Undercovered@mediaite.com
[image: Earthquake and Tsunami damage, Japan-March 16, 2011: This is a satellite image of Japan showing damage after an Earthquake and Tsunami at the Dai Ichi Power Plant, Japan. (credit: DigitalGlobe) via Wikicommons]
Have a tip we should know? tips@mediaite.com