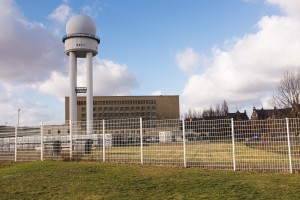 Undercovered is our daily feature bringing attention to women's issues worldwide, which we feel deserve a larger audience.
—
Berlin's disused Tempelhof airfield has been converted into the nation's largest refugee camp, a shelter that serves as a temporary home to 1,200 refugees
Sonia Narang, writing in Women & Girls Hub, reported Wednesday on one women, 25-year-old Rascha al-Dujaile, who is pregnant in the camp.
Al-Dujaile told her story to Narang in her own words:
Everything is different here. It's exhausting and uncomfortable. The food is inedible. There are some security guards that don't treat us well. The other kids are rough with my kids. We have no privacy.

We are not living in a place where we can feel comfortable. I feel like we're living in the Stone Age. For us, it is like sleeping outside.

[…] We were hurting in Iraq, but now we're hurting maybe even more. We were afraid of rockets. But we were living in a stable house comfortably. Here, there's no stability; the only benefit is safety.
You can read the complete story here.
—
[image: hinterhof / Shutterstock.com The "Flughafen Berlin-Tempelhof" (german for "Berlin Tempelhof Airport" on January 28th in Berlin. Currently as an 'emergency refugee shelter' for at least 1,200 refugees.]
Undercovered is a daily feature from Mediaite, bringing attention to stories about women's issues that warrant more attention. Go through the Undercovered archives here. If you have an idea or a tip, please email us at Undercovered@mediaite.com
Have a tip we should know? tips@mediaite.com