Green Party's Jill Stein Has 'Serious Questions' About Clinton, Says She Was 'Too Big to Jail'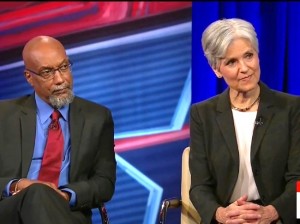 At a CNN Town Hall event Wednesday evening, Green Party presidential candidate Dr. Jill Stein admitted she had "serious questions" about Hillary Clinton, whom she said had escaped legal consequences for her emails because she seemed "too big to jail."
Asked to weigh in on reports that Clinton is about to receive her first intelligence briefing (Trump had his Wednesday), Stein responded, "I have not been informed yet on exactly the nature of this briefing. But I will say she is under a lot of pressure right now and she's being very carefully scrutinized."
She continued, "Part of the problem with Hillary's abuse of the rules, she was sort of too big to jail on the rules. And she violated those rules with a sense of impunity and she violated them for a purpose which she stated herself. She wanted her private information private. Now, it turns out half of her e-mails, she deleted as private. If someone is working for you and half of their e-mails on the job are for their private personal foundation, it really raises questions.
"So I do have serious questions about Hillary clinton's judgment, her safeguarding of national security information and above all her trustworthiness in a job where she will have her finger on the button" based on her foreign policy record, she added.
"To people who don't like Donald Trump, you have more options out there than Hillary Clinton," she concluded.
—
Sam Reisman (@thericeman) is a staff editor at Mediaite.
Have a tip we should know? tips@mediaite.com