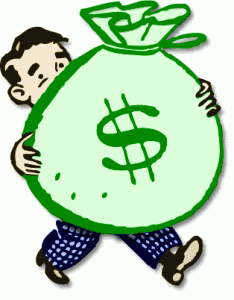 Here's something to get you in the holiday spirit: According to Catherine Rampell at the New York Times, last quarter's corporate profits were the highest on record. "American businesses earned profits at an annual rate of $1.66 trillion in the third quarter," Rampell writes—the largest amount since the government began tracking earnings more than 60 years ago.
This news, unfortunately, isn't unequivocally good. The $1.66 trillion figure hasn't been adjusted for inflation, so it could be misleading to definitively call this quarter America's best. Rampell also points out that—surprise!—what's been good for big business hasn't been good for individual American workers:
Since their cyclical low in the fourth quarter of 2008, profits have grown for seven consecutive quarters, at some of the fastest rates in history.

This breakneck pace can be partly attributed to strong productivity growth — which means companies have been able to make more with less — as well as the fact that some of the profits of American companies come from abroad. Economic conditions in the United States may still be sluggish, but many emerging markets like India and China are expanding rapidly.

Tuesday's Commerce Department report also showed that the nation's output grew at a slightly faster pace than originally estimated last quarter. Its growth rate, of 2.5 percent a year in inflation-adjusted terms, is higher than the initial estimate of 2 percent. The economy grew at 1.7 percent annual rate in the second quarter.
And here's the kicker: "The economy is not growing fast enough to reduce significantly the unemployment rate or to prevent a slide into deflation," says economist Paul Dales. "This is unlikely to change in 2011 or 2012."
So, okay, maybe scratch that whole holiday spirit thing. The full story's at NYTimes.com.
Have a tip we should know? tips@mediaite.com