Union Leader Chuck Jones: I Can't Abide a 'President Who Misleads Workers' and 'Gives Them False Hope'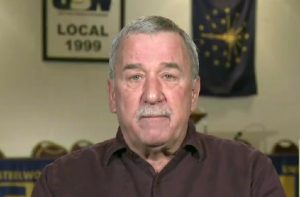 Last night, United Steelworkers 1999 president Chuck Jones became instantly famous when President-elect Donald Trump took to Twitter to attack him. The Trumpian tweets were the result of Jones' appearance on CNN, talking about the criticism he had lobbed Trump's way over what he felt was the incoming POTUS lying about the number of jobs saved at Carrier.
Following Trump's insults, the Twitter hashtag #ImWithChuck began trending, with Jones getting a lot of sympathy and support for being targeted by the President-elect. (Targeting that resulted in Jones receiving death threats shortly after.)
Jones wrote an op-ed for the Washington Post that was published this afternoon where he gave his side of things and explained why he's been so critical of Trump over the Carrier deal that has resulted in 730 saved factory jobs at the Indianapolis plant.
Explaining that he represents the Carrier workers who learned that Carrier was closing the plant and moving 1,300 jobs this past February, he brought up the efforts the union came up with to try to save the jobs, which included cost saving measures and severance packages. Jones noted that the corporate bosses said in order to meet the savings they were getting for moving the jobs to Mexico, workers would need to work for $5 per hour with nmo benefits.
The union rep highlighted that he was only upset with Trump because he specifically said to the workers that 1,100 jobs were being saved. However, shortly after, they were told 550 jobs were still being shipped to Mexico, meaning that Trump was counting 350 R&D jobs that the union always knew were staying in Indiana.This is why he expressed his anger to a reporter.
Jones ended his op-ed with the following paragraph:
What I can't abide, however, is a president who misleads workers, who gives them false hope. We're not asking for anything besides opportunity, for jobs that let people provide for their families. These plants are profitable, and the workers produced a good-quality product. Because of corporate greed, though, company leaders are racing to the bottom, to find places where they can pay the least. It's a system that exploits everyone.
Aside from the trending hashtag, United Steelworkers and other unions publicly backed Jones on Twitter:
Chuck is a hero not a scapegoat: you, others know about Carrier because of his, members' tireless work since day 1 to save ALL jobs there. https://t.co/C9fvwajHY7

— United Steelworkers (@steelworkers) December 8, 2016
Chuck Jones was trying to save workers jobs while @realDonaldTrump was buying Chinese steel for his bldgs https://t.co/w9vtbikULP

— Randi Weingarten (@rweingarten) December 8, 2016
We're proud to stand in solidarity with Chuck Jones, Carrier workers and @steelworkers Local 1999 #ImWithChuck https://t.co/ZePc6VJA89 pic.twitter.com/otFZ3kTse3

— AFL-CIO (@AFLCIO) December 8, 2016
[image via screengrab]
–
Follow Justin Baragona on Twitter: @justinbaragona
Have a tip we should know? tips@mediaite.com