Union Points Out Trump's Carrier Deal Only Saved 730 Factory Jobs, Not More Than a Thousand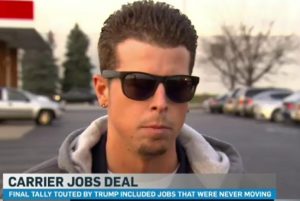 Last week, President-elect Donald Trump told workers he had struck a deal with United Technologies, the parent company of Carrier, to retain 1,100 jobs in Indiana rather than allow them to go to Mexico. This was all in response to an announcement earlier this year that Carrier was closing two plants and moving over 2,000 factory jobs down south.
Although the news was well-received by the workers, more details are now coming out to perhaps reveal that while jobs were saved, the number may not be as great as reported.
According to the local union at the Indianapolis plant, the total number of jobs saved is actually a little more than 700, with Trump counting 350 R&D jobs that were never slated to leave.
"We didn't know the breakdown before because no one would give us any information," Union President Chuck Jones told Eyewitness News by phone Monday. "Now what we're losing is 550 member jobs."

"We found out today that more jobs are leaving than what we originally thought," Bray said. "It seemed like since Thursday, it was 1,100 then it was maybe 900 and then now we're at 700. So I'm hoping it doesn't go any lower than that."

Union workers got a letter at the plant saying Trump's deal with Carrier will save only 730 factory jobs in Indianapolis, plus 70 salaried positions – 553 jobs in the plant's fan coil lines are still moving to Monterrey, Mexico.
It should also be noted that Carrier's plant at Huntington will still close, resulting in the loss of 700 jobs. So, out of the jobs scheduled to move down to Mexico, only about a third were kept in Indiana. Carrier sent a letter to employees last week acknowledging that many of the Indianapolis factory jobs were still getting shipped south.
In return for keeping some jobs from going to Mexico, United Technologies received $7 million in tax breaks from the state. Vice-President-elect Mike Pence is still the Governor of Indiana.
A Morning Consult poll released today shows Trump receiving more favorable views from American voters following the announcement of the deal.
Watch video of the story above, via WTHR-13.
[image via screengrab]
–
Follow Justin Baragona on Twitter: @justinbaragona
Have a tip we should know? tips@mediaite.com