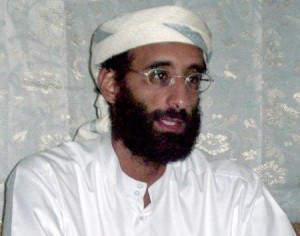 Anwar Al-Awlaki, the terrorism suspect who was controversially placed on the United States' kill or capture list (the first US citizen to be so "honored"), has been killed, according to reports confirmed by government officials. Al-Awlaki was killed by a US missile strike in Yemen, near the Saudi border. A high-level operative of al Qaeda in the Arabian Peninsula, Al-Awlaki was linked to the Fort Hood shooting, and unsuccessful underwear bomber Umar Farouk Abdulmutallab.
From CBS News:
Anwar al-Awlaki, a U.S.-born radical Islamic preacher who rose to the highest level of al Qaeda's franchise in Yemen, has been killed.

Al-Awlaki, born in New Mexico, has been linked to al Qaeda in the Arabian Peninsula's (AQAP) attempted bombing of a U.S. passenger jet over Detroit on Christmas day, 2009, and was thought to be a leader of the group.

A U.S. government official confirms to CBS News senior security correspondent David Martin that al-Awlaki was killed. Yemen's Defense Ministry was first to tell CBS News of the strike, but given previous reports which turned out to be erroneous, the relatively rapid U.S. confirmation is crucial, and bolsters witness accounts that it was a U.S. drone strike that killed the al Qaeda figure.

The Associated Press reported that an unidentified source said the U.S. believes al-Awlaki was killed in a strike by U.S. jets and drones on his convoy.
Al-Awlaki's killing is a further sign of success for the US in the fight against al Qaeda, and a demoralizing blow for the terrorist organization that committed the attacks on 9/11. The American-Yemeni cleric was a highly visible figure for al Qaeda.
The killing of Al-Awlaki is just the latest in a long string of Obama administration successes in the war on terror, but while this news will be celebrated by many, but will also likely spark some controversy. President Obama's decision to order the killing of Al-Awlaki was met with a sizable amount of criticism, on the basis that as a US citizen, the cleric was entitled to due process.
How did this news break? Well Fox News was first to report on Al-Awaki's death at 4:37 AM, shortly followed by CNN at 4:41 and MSNBC at 5:30. Watch Fox and Friends report below, courtesy of Fox News:
Have a tip we should know? tips@mediaite.com