User Named 'Racist McShootFace' Hijacks Zimmerman Gun Auction, Hikes Up Price to $65 Million
'Racist McShootFace' Hijacks Zimmerman Gun Auction, Hikes Up Price to $65 Million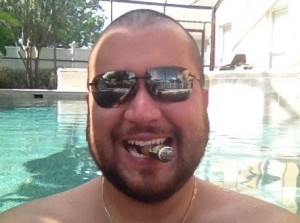 George Zimmerman's gun sale attempt isn't going very well. After having to move his online auction to a new site once already, the bidding on the weapon that killed Trayvon Martin seems to have been taken over by trolls determined to remind Zimmerman of his infamy.
Despite his not-guilty verdict for the death of Martin four years ago, Zimmerman is a pariah to many for his apparent non-regret for the incident, and a myriad of controversial statements from him since then. Zimmerman posted the gun to be sold on United Gun Group, but the auction seems to have been taken over since the bidding war hit astronomical prices from accounts that were most likely fake.
The leading bidder used the screen name "Racist McShootFace" (which might be a throwback to this act of trolling), who sent the price past $65 million. Other troll accounts included "Donald Trump," 'shaniqua bonita' and "Tamir Race." ABC 7 reported that "Racist McShootFace's" account has been deleted, but the enormously high price is still on the site.
Zimmerman originally tried to sell the gun on Gunbroker, but as CNN noted, the site backed away from the auction after putting out a statement saying, "We want no part in the listing on our web site or in any of the publicity it is receiving." Zimmerman told news sources that Gunbroker was actually not prepared to handle the Internet traffic before he moved the auction to United Gun Group.
[Image via screengrab]
— —
>> Follow Ken Meyer (@KenMeyer91) on Twitter
Have a tip we should know? tips@mediaite.com