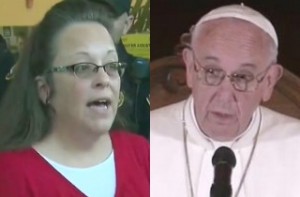 Early this morning the Vatican further clarified the intent behind Pope Francis' secret meeting with Kentucky law clerk Kim Davis. Many people were surprised this week to learn that the Pope's much publicized trip to the U.S. included a visit from Davis, the subject of the controversy surrounding the administering of same sex marriage licenses in her district.
In this statement that the Vatican released in the early morning hours Friday, the meeting was further addressed:
Pope Francis met with several dozen persons who had been invited by the Nunciature to greet him as he prepared to leave Washington for New York City. Such brief greetings occur on all papal visits and are due to the Pope's characteristic kindness and availability. The only real audience granted by the Pope at the Nunciature was with one of his former students and his family.
The Apostolic Nunciature handles the Pope's diplomatic dealings abroad.
The unexpected clarification comes after criticism mounted this week that Pope Francis would grant an audience to such a derisive figure as Davis; Davis refused to uphold the Supreme Court's ruling Obergefell v. Hodges regarding same sex marriage licenses, and became a hero of religious liberty to many in the process. The meeting with Pope Francis led many to believe that the unusually liberal Pontiff supported Davis' actions, who said of the meeting, "I was humbled to meet Pope Francis. Of all people, why me?".
Friday's statement from the Vatican continued, "The Pope did not enter into the details of the situation of Mrs. Davis and his meeting with her should not be considered a form of support of her position in all of its particular and complex aspects".
[image via screengrab]
—
>> Follow J.D. Durkin (@MediaiteJD) on Twitter
Have a tip we should know? tips@mediaite.com