Vatican Responds to Trump's Immigration Criticisms as Pope Prepares Mass on the Border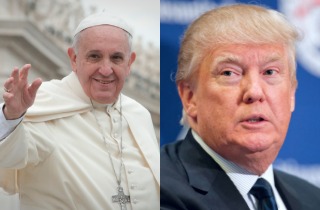 Vatican officials are firing back at Donald Trump for his recent criticism of Pope Francis' upcoming visit to the U.S-Mexican border and his open-arms immigration stance.
The leader of the Catholic Church has been touring Mexico for the past few days, praying for the plight of migrants and for an end to the extreme crime along the border. The Pontiff is visiting the violence hotbed of Ciudad Juárez today, and afterwards will head to the border fence between the city and El Paso, Texas for a ceremonial mass.
Trump, who has been known for his extreme anti-immigration stance for some time, told Fox Business that the Pope was "a very political person" who understood little of how immigrants affect the United States, and he assumed the Mexican government put Francis up to the border visit. Vatican spokesman Rev. Federico Lombardi shot back that this was all part of the Pope's plan to speak against the "globalization of indifference" for those fleeing poverty and oppression:
"The pope always talks about migration problems all around the world, of the duties we have to solve these problems in a humane manner, of hosting those who come from other countries in search of a life of dignity and peace… The pope always speaks of the problems of immigration. If Mr. Trump were to come to Europe he would see that the pope has said the same things about immigration to the Italians, the Germans, the French and the Hungarians."
The Pontiff struck a similar tone with his message back in September, when he called for openness as he toured America.
[h/t Reuters]
[images via wikimedia]
Have a tip we should know? tips@mediaite.com