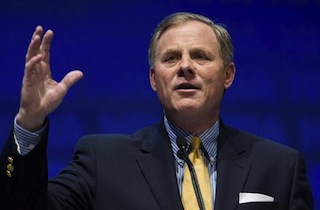 On Friday, Senator Richard Burr (R-NC) criticized veterans organizations for prizing political leverage with Veterans Affairs Secretary General Eric Shinseki over veterans' health access. Less than twenty-four hours later, the Veterans of Foreign Wars fired back at the senator, calling his criticism a "monumental cheap shot."

"Last week's hearing made it clear to me that the staff has ignored the constant VA problems expressed by their members and is more interested in their own livelihoods and Washington connections than they are to the needs of their own members," Burr alleged of various veterans organizations, with the exclusion of the American Legion, which has called for Shinseki to step aside. "I fear that change within the VA will not be possible unless and until these organizations also reconsider their role as well as the nature of their relationship with VA."
RELATED: CBS' Major Garrett Presses GOP Sen.: Is VA Scandal Become 'Hyper-politicized'?
The VFW wasn't having it, accusing Burr of taking the "low road" and engaging in an "absolutely disgusting ambush style of politics."
"Senator, this is clearly one of the most dishonorable and grossly inappropriate acts that we've witnessed in more than forty years of involvement with the veteran community and breaches the standards of the United States Senate," the organization responded in a three-page letter. "Your allegations are ugly and mean-spirited in every sense of the words and are profoundly wrong, both logically and morally. Quite frankly Senator, you should be ashamed."
Read the full letter HERE, via Roll Call.
[Image via Chris Keane / Reuters]
——
>> Follow Evan McMurry (@evanmcmurry) on Twitter
Have a tip we should know? tips@mediaite.com