Video: Andrew Breitbart And Dana Loesch In The Belly Of The Media Matters Beast!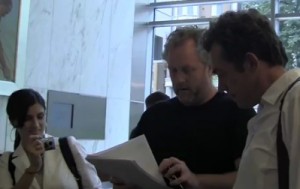 It was a confrontation for the ages. Earlier today, conservative media titan Andrew Breitbart, Big Journalism editor Dana Loesch, and Big Government editor Mike Flynn ventured into the Washington, DC headquarters of liberal media watchdog Media Matters, reputed lair of billionaire boogeyman George Soros. Their quarry? A copy of Media Matters' IRS 990 disclosure form. Media Matters has released video of the confrontation between the conservative trio and Media Matters Executive Vice President Ari Rabin-Havt.

Media Matters has been the subject of a campaign to have their tax-exempt status revoked, on the heels of the organization's declaration of war on Fox News. Breitbart's sites frequently target Media Matters' tax exempt status in videos ironically hosted by conservative media watchdog (and non-profit) The Media Research Center.
All of these forces converged today, as Breitbart and his Big Editors gained entry into Media Matters' headquarters, eyes on the IRS Form 990 prize, only to be met by Ari Rabin-Havt. You won't believe what happened next: (video best enjoyed while playing The Imperial Death March in your head)
Yes, in the most stunning climax since Luke Skywalker took Darth Vader to small claims court, Rabin-Havt turned over the disclosure, as required by law, and Breitbart, et al, quietly left. If this video wasn't quite enough for you (you daredevil), it looks like Loesch recorded the encounter from the Breitbart point of view, so you can probably look forward to another angle of this episode.
Update: I swear to God, I did not see Breitbart's version of this video when I wrote the above, but apparently, Big Journalism had a similarly cinematic view of the encounter:
Almost as hilarious is Big Journalism's overwrought narrative of the encounter, wherein they describe Air Rabin-Havt as a "goon."
I've met Ari several times, and he wouldn't qualify as a "goon" on the Planet Of The Chess Clubs.
They also weirdly concede Media Matters' point that Fox News is a conservative, anti-Obama organization, if I'm reading this right:
Only conservative institutions count as "offending," of course. With its self-described "war" on FOX News, MMFA is now effectively a campaign arm of Obama for America and the Democrats, violating the rules that allow it to avoid paying taxes to the federal government–even as it clamors for the federal government to raise taxes on everyone else.
Update 2: The "goons" are now "staffers." Kum-ba-yah!
Have a tip we should know? tips@mediaite.com