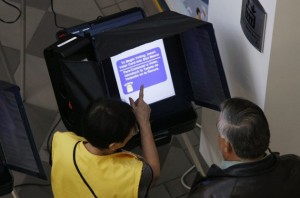 Many people have expressed some concern over potential voting irregularities, and already someone has captured video of one such potential irregularity. YouTube user centralpavote uploaded a video earlier today of a voting machine that appears to misdetect a touch-screen vote for President Obama as a vote for Mitt Romney. The video went viral after being posted on Reddit, and as of now is currently on the site's front page.
After the video was posted on Reddit, the user who uploaded it to YouTube commented on the thread to claim he tried to vote for Obama, but when he pushed the touch-screen button for the president, Romney's name was selected instead.
Being a software developer, I immediately went into troubleshoot mode. I first thought the calibration was off and tried selecting Jill Stein to actually highlight Obama. Nope. Jill Stein was selected just fine. Next I deselected her and started at the top of Romney's name and started tapping very closely together to find the 'active areas'. From the top of Romney's button down to the bottom of the black checkbox beside Obama's name was all active for Romney. From the bottom of that same checkbox to the bottom of the Obama button (basically a small white sliver) is what let me choose Obama. Stein's button was fine. All other buttons worked fine.
Since then, centralpavote has updated the comment to say that he has been contacted by a number of news organizations about his video. One technology expert who spoke to Gawker said that the video, if accurate and unedited, is concerning not because of potential voter fraud, but because the machine was not calibrated properly before being used in a presidential election where every vote counts.
Watch the video below:
[Image via]
Have a tip we should know? tips@mediaite.com
Josh Feldman - Senior Editor